Image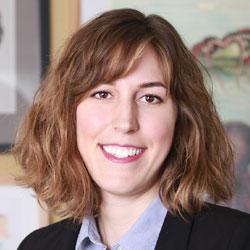 Anna McCreedy, MA
International Student Advisor
Berkeley International Office
Conference Co-Chair, Region XII Northern District
Anna McCreedy, MA, works at the Berkeley International Office at UC Berkeley, where she is an International Student Adviser and the Programming Lead for the office. She is also actively involved in volunteering in the local international education community, acting as the Chair for the NAFSA Northern California District, as well as a member of the leadership team for the Bay Area Young Professionals in International Education.
She completed her undergraduate degree at Colorado College with a BA in international political economy, and later pursued a master's degree in international education management at the Middlebury Institute of International Studies.
During her studies, Anna was a very active participant in study abroad, and has lived, studied, and worked in multiple countries. To this day, she highly values international education and intercultural exchange, and sincerely believes that it is the path towards a more global, peaceful, and cooperative world.
Anna is originally from Southern Oregon, and when she is not working, can be found hiking with her dog Monty, trying out a new recipe, or reading a good book.
NAFSA International Education Rising Star Young Leader Award
Anna received the 2020 NAFSA International Education Rising Star Young Leader Award