Image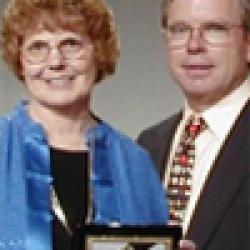 Bob and Nancy Sturtevant
Bob and Nancy Sturtevant have demonstrated leadership and volunteerism for many areas. They have served as president of the Fort Collins International Center, NAFSA COMSEC leaders, NAFSA COMINFO representatives, creators and chairs of the Fort Collins International Center Outdoor Committee, host family program chair, treasurer, newsletter editor, and coordinator of the weekly Friday Afternoon Club. In each of these roles and through presenting workshops and sessions, they have worked to recruit, train, recognize, and provide vision for other community volunteers. Their lives are characterized by a selfless ethic of service to others. They are always willing to step up when a job needs to be done and willing to rearrange their schedules to help someone else.
Their strong record of volunteerism extends over two decades and is driven by a satisfaction derived from sustained contact with international students. Their personal involvement takes the form of skiing, camping, white water rafting, holiday and birthday parties, moving services, stopping by to check on students even after putting in a long day, and opening their house for storage and lodging. They have lived out their commitment to promoting global understanding as demonstrated by the outstanding number of students they have been personally involved with.
For the Sturtevants, service to students extends beyond the local community and reaches students in other countries. Their "Books for Development" program gathers used textbooks and professional journals from universities and the community. The items are screened, sorted, and boxed for shipping. Working with a current student, a needy university is identified and a 20-foot container containing about 40,000 books and periodicals is sent for about 10 cents per item. Shipments have gone to Pakistan, Chile, Venezuela, Belize, Indonesia, Vietnam, and Zimbabwe.
The Sturtevants were awarded NAFSA's 2006 Hugh M. Jenkins Award for Excellence in Community Programming.