Image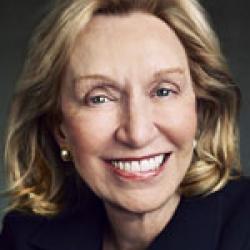 Doris Kearns Goodwin
Pulitzer Prize Winning Author
Doris Kearns Goodwin is a world-renowned presidential historian and Pulitzer Prize winning author. Through her lifelong examination of the U.S. presidency, Goodwin brings history alive and illuminates her readers on the triumphs and tribulations of the men and women who have shaped the nation.
Goodwin's experience as a 24-year-old White House Fellow, working directly for President Lyndon Baines Johnson in his last year in office, and later assisting him in the preparation of his memoirs, fueled her interest in becoming a presidential historian and author.
Goodwin is the author of seven critically acclaimed and New York Times best-selling books, including her most recent publication, Leadership in Turbulent Times, which incorporates 5 decades of scholarship studying Presidents Abraham Lincoln, Theodore Roosevelt, Franklin Roosevelt, and Lyndon Baines Johnson. Goodwin was awarded the Pulitzer Prize in history for No Ordinary Time: Franklin and Eleanor Roosevelt: The Home Front in World War II. She is also a frequent contributor to documentaries and television news programs.
Goodwin graduated magna cum laude from Colby College. She earned a doctoral degree in government from Harvard University, where she taught government courses in the field, including one on the U.S. presidency. Goodwin lives in Concord, Massachusetts.