Image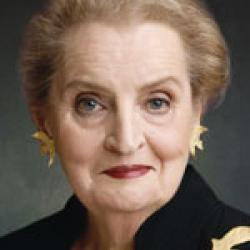 Dr. Madeleine K. Albright
Former Secretary of State
As one of the world's most respected diplomats, Dr. Madeleine K. Albright, continues to advocate for democracy and human rights across the world, while also championing the important impact international relations and educational exchanges have on the United States today.
In 1997 under President Bill Clinton, Dr. Albright was named the first female Secretary of State and became, at that time, the highest ranking woman in the history of the U.S. government. From 1993 to 1997, Dr. Albright served as the U.S. permanent representative to the United Nations and was a member of the President's cabinet.
Currently, Dr. Albright is a professor in the practice of diplomacy at the Georgetown University School of Foreign Service. She chairs the National Democratic Institute for International Affairs and serves as president of the Truman Scholarship Foundation. She is also a member of the U.S. Department of Defense's Defense Policy Board, a group tasked with providing the Secretary of Defense with independent, informed advice and opinions concerning matters of defense policy. Dr. Albright also serves on the board of the Aspen Institute.
In 2012, President Barack Obama awarded Dr. Albright the Presidential Medal of Freedom, the nation's highest civilian honor.
Dr. Albright's most recent book is the number one New York Times best seller Fascism: A Warning. She is the author of five other New York Times best sellers: her autobiography, Madam Secretary: A Memoir; The Mighty and the Almighty: Reflections on America, God, and World Affairs; Memo to the President: How We Can Restore America's Reputation and Leadership; Read My Pins: Stories from a Diplomat's Jewel Box; and Prague Winter: A Personal Story of Remembrance and War, 1937-1948.
Dr. Albright received a bachelor's degree with honors from Wellesley College, and master's and doctoral degrees from Columbia University's Department of Public Law and Government, as well as a certificate from its Russian Institute. She is based in Washington, D.C.