Image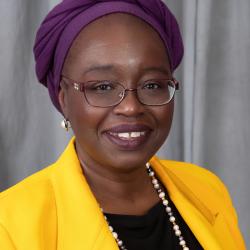 Fanta Aw, PhD
NAFSA: Association of International Educators
Executive Director and CEO
Fanta Aw, PhD, has been a dedicated member and leader within NAFSA since 1996 and currently holds the position of Executive Director and Chief Executive Officer. From 2013 to 2016, she served as NAFSA's President and Board Chair. Dr. Aw is a recognized and highly respected figure in the fields of international education and higher education administration.
Dr. Aw dedicated her academic and professional careers to American University (AU) in Washington, D.C., where she achieved several degrees. Her accomplishments include a BS in accounting, an MA in public administration with a specialization in organizational development, and a PhD in sociology with a focus on international education, social stratification, and transnational migration.
Throughout her extensive tenure at AU, Dr. Aw held numerous leadership positions, most recently serving as Vice President of Undergraduate Enrollment, Campus Life, and Inclusive Excellence. Notably, she received recognition as an award-winning teacher, having fulfilled the role of Hurst Senior Professorial Lecturer at AU's School of International Service. In 2023, Dr. Aw's remarkable AU contributions were honored with the Neil Kerwin Alumni Achievement Award. Furthermore, she actively participates as a member of the Global Advisory Board of Times Higher Education and has previously chaired the board of ETS TOEFL.
Originally hailing from Mali, West Africa, Dr. Aw has resided in both East and West Africa, as well as the United States, fostering a broad and diverse cultural perspective. Her passion for global experiences has led her to explore nearly 60 countries. Dr. Aw is a frequent keynote speaker, sharing her expertise on various topics including international educational exchanges, diversity and inclusion in higher education, and U.S. immigration. Her expertise has been acknowledged by major global media outlets, including CNN, Agence France Press, USA Today, Washington Post, The Chronicle of Higher Education, National Public Radio, Middle East Broadcast Corporation, Washington Business Journal, WAMU, Washington Diplomat, and China Daily.
---