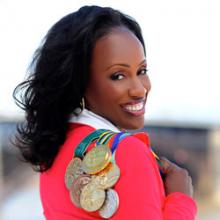 Jackie Joyner-Kersee
Friday, May 29
Named "The Greatest Female Athlete of the 20th Century" by Sports Illustrated magazine and one of ESPN's "50 Greatest Athletes of the Century", Jackie Joyner-Kersee's accomplishments extend well beyond the athletic field. She is also a committed advocate and philanthropist for children's education, racial equality, social justice, and women's rights, both in her hometown of East St. Louis, and across the world.
Joyner-Kersee, in her historic track and field career, won six Olympic medals including gold medals in the heptathlon and long jump at the 1988 Summer Games in Seoul and the heptathlon gold medal at the 1992 Summer Games in Barcelona. She also earned five World Champion titles, and continues to hold the world heptathlon record of 7,291 points.
In 1988, Joyner-Kersee established the Jackie Joyner-Kersee Foundation, which provides youth, adults, and families with athletic opportunities and resources to improve their quality of life. In 2007, she helped found Athletes for Hope, a charitable organization that helps professional athletes get involved in charitable causes and inspires millions of non-athletes to volunteer and support their communities. She also currently sits on the board of directors for USA Track & Field (USATF), the national governing body of the sport.
Joyner-Kersee has received many prestigious awards. These include the Sullivan Award, the Jesse Owens Memorial Award, and the International Olympic Committee's (IOC) highest honor—the Women and Sport Trophy.
Joyner-Kersee holds a bachelor's degree in history from UCLA. She has also received multiple honorary degrees, including a doctorate of humane letters from Spelman College. She resides in East St. Louis.