Image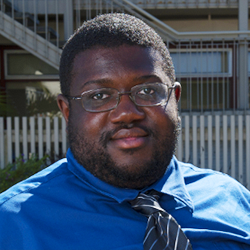 Jaron Hightower-Mills
University of Colorado Denver, Anschutz Medical Campus
2022-2023 RISE Fellow
Jaron Hightower-Mills is an International Services Specialist at the University of Colorado Denver|Anschutz Medical Campus. Prior to joining CU Denver|Anschutz, he has served as an International Student Advisor at the University of Texas at Austin and the International Technological University. Outside of international student advising, Jaron has worked as a middle and high school French teacher in New York, Massachusetts, and Colorado.
He earned a Bachelor of Arts in French from Claremont McKenna College in Claremont, CA; a Master of Education in Secondary Teaching of French from Boston College in Chestnut Hill, MA; and Master of Arts in International Education Management from the Monterey Institute for International Studies in Monterey, CA.
As a member of RISE Fellowship, he hopes to network with other international education professionals looking for innovative ways to center diversity, equity, and inclusion within international education.