Image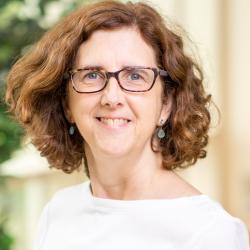 Joanna Holvey Bowles
Director of Office-Campus Study
Colgate University
Joanna Holvey Bowles is director of off-campus study at Colgate University where she oversees all education abroad planning and activities including the annual administration of 20 semester-long, faculty -led global programs and up to eight, field-based, 3-week extensions of campus courses. This experience follows many decades with third party providers (IFSA-Butler; Arcadia University Center for Education Abroad) and a year with the Philadelphia World Affair's Council as Assistant Director of Education. Joanna has spent her career creating student support models to assist students abroad. She earned an MS in Global & International Education from Drexel University, a BA in History from Emory University, and spent a year abroad at the University of East Anglia, England.
Joanna is active in the field with multiple publications and dozens of sessions, workshops and trainings at NAFSA and the Forum on Education Abroad. Joanna is published in health and safety, crisis response, and mental health practices for study abroad. She served the field as NAFSA's Chair of the Education Abroad Health and Safety subcommittee and served for 10 years on the NAFSA Region VI Committee. She has developed facilitated direct enrollment semester and year abroad programs across the world for over 30 years and supervised multiple domestic and resident staff abroad.
In 2023, Joanna was the recipient of the NAFSA Education Abroad Knowledge Community's Education Abroad Leadership Award.