Image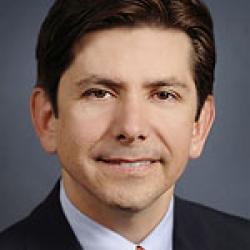 Joël A. Gallegos
Associate Provost for International Programs
University of North Carolina-Charlotte
Joël Gallegos, Associate Provost for International Programs, serves as the senior international officer at UNC Charlotte and oversees the comprehensive Office of International Programs (OIP) operation. The OIP comprises the Office of Global Education and Engagement, the Office of Education Abroad, the International Student and Scholar Office, the English Language Training Institute and the Office of Intercultural and Educational Experiences.
In the Charlotte community, Gallegos serves as a board member and chair of the education committee of the World Affairs Council of Charlotte (WACC), which is the community's premier organization on global affairs and which provides support to the UNC Charlotte community by inviting prominent speakers to address important international and global affairs topics to our students, faculty and staff. In addition, Gallegos serves on the board of directors of Charlotte Sister Cities. Sister Cities partnerships forge exchanges and initiatives that focus on arts and culture, youth and education, business and trade, and community development for the Charlotte region.
Gallegos serves as the Honorary Consul of France to Central and Western North Carolina. The corps of Honorary Consuls are located in the major cities of the U.S. southeast region and serve the French citizens and the regional area in building relationships and relaying the messages and actions of the consulate general.
Within the state, Gallegos serves as chair of the University Council on International Programs (UCIP), the primary body charged with overseeing, coordinating, and advocating for the UNC System's global affairs divisions and their activities. Nationally, Gallegos serves as a member of the board of directors for ISEP Study Abroad where he chairs the advancement and external relations advisory committee. He previously served on the board of directors of NAFSA: Association of International Educators, CIEE: Council on International Education and Exchange and is a trustee emeritus for the FEA: The Fund for Education Abroad.
Gallegos holds a Bachelor of Arts in French and Spanish as well as a Master of Arts in French from Bowling Green State University.