Image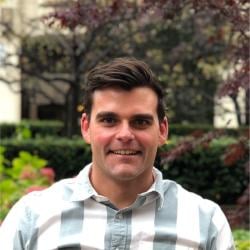 Kevin Sullivan
Assistant Director, Education Abroad
Case Western Reserve University
Kevin Sullivan is the assistant director of education abroad at Case Western Reserve University, helping students find and plan study, research, internship, and co-op opportunities around the world. He is also a member of the NAFSA Rainbow SIG leadership team.
Sullivan received his master's degree in Leadership in Higher Education from Baldwin Wallace University in 2020 and held internships there with Study Abroad, the Learning Center, and Disability Services. He also interned with the Office of Education Abroad at Case Western Reserve during his master's program.
Prior to completing his master's, Sullivan held leadership positions in the hospitality industry and spent two years teaching high school arts, humanities, and social sciences in English in Madrid, Spain.
Sullivan has a BA in International Studies and Spanish from Baldwin Wallace University, where he studied abroad for an academic year in Mexico and spent two summers teaching elementary school English in Honduras.