Image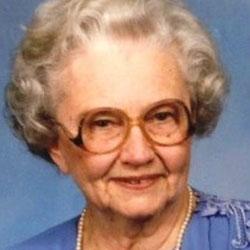 Mary Rogerson
The Hugh M. Jenkins Award for Excellence in Community Programming was established in 2001 by the Community Programming Section of NAFSA. The award was presented initially to Hugh M. Jenkins for his leadership, especially in the development of the Community Section.
The award was presented in 2002 to a person who worked closely with Mr. Jenkins as a volunteer for many years: Mrs. Mary Rogerson of Columbia, South Carolina.
Active as a volunteer in international educational exchange for at least 40 years, and with a strong commitment to helping international students, Mary and her husband, L.A. Rogerson, were instrumental in founding the Columbia Council for Internationals in 1965. The community support they enlisted included both the president of the University of South Carolina and the governor of the state. This all-volunteer organization continues to serve the international community in many ways, and Mary is still involved as a board member.
Mrs. Rogerson and her well-trained volunteers have developed benchmark programs for international students and scholars locally, many of which have become models of service. The training and protocol that she largely developed have resulted in a high level of consistency and continuity. She created a "Handbook" for board members and volunteers, which she continues to update, and which is used widely.
Her influence has extended far beyond the local community. She has been active in Region VII in many ways, and was on the national COMSEC team, serving as national COMSEC chair and on the NAFSA board in 1975-76. She became a national consultant for NAFSA, conducting close to 100 workshops and seminars, in addition to many consultations. Her leadership guided many colleges, universities, and communities in establishing programs to serve the international community. She became affectionately known as "Queen of the Road."
When there were not materials for training volunteers, she developed some resources, including revisions of the handbook she had done locally. She and her husband worked diligently alongside Ron Heinrich and others to establish, in 1972, the COMSEC Newsletter, which provided resources and communication for community leaders. NAFSA previously awarded her Life Membership.
Mary Rogerson has been a guiding force in shaping international educational exchange from the community perspective. The Hugh M. Jenkins Award is a fitting tribute to her long years of service.