Image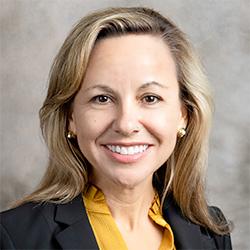 Montse Fuentes, PhD
Executive Vice President and Provost
University of Iowa
Keynote Speaker, Global Learning Lab
Montse Fuentes, Ph.D., joined the University of Iowa as executive vice president and provost in June 2019. She came to the UI from Virginia Commonwealth University (VCU), where she served as dean of the College of Humanities and Sciences. Before joining VCU in 2016, Fuentes was head of the Department of Statistics and James M. Goodnight Distinguished Professor of Statistics at North Carolina State University. She also previously served as director of the NSF-funded Network on Statistical Methods in Atmospheric and Oceanic Sciences.
Fuentes has authored more than 100 scientific publications and served as principal or co-principal investigator on more than 20 research grants, with total funding of more than $28 million. Her research interests include big data; brain-imaging analysis; statistics for spatial data; uncertainty analysis; computer models; and interdisciplinary applications in neurosciences, environmental sciences, and health sciences.
In 2008, Fuentes was named an American Statistical Association fellow. In 2012 she received the United States Environmental Protection Agency's Scientific and Technological Achievement Award, and in 2017 she was awarded the Medal of Distinguished Achievement from the American Statistical Association, Environmental Statistics Section.
She received a dual bachelor's degree in mathematics and music (piano) from the University of Valladolid in Spain and a Ph.D. in statistics from the University of Chicago.