Image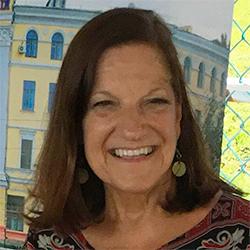 Patricia A. Burak, D.A.
Syracuse University
After more than 40 years in international education at Syracuse University, Pat Burak retired as director in 2018 from the Slutzker Center for International Services. She continues to be an Assistant Professor in the College of Arts and Sciences, Syracuse University.
Pat says "For more than four decades, international educational exchange has infused my psyche. Advising, programming, crisis management, mentoring, publishing, presenting at conferences, and educating the university and community about the issues, values, and benefits of international educational exchange was my passion. Creating mentoring programs, advising the International Student Association, planning cultural festivals, travelling professionally to Ukraine, Russia and Spain, and engaging with colleagues at local, regional and national levels made this career a lifetime "trip" like no other."
Her colleague Mike Smithee brought Phi Beta Delta to Syracuse University and she remains Coordinator of the Alpha Sigma Chapter. Conference presentations with fellow NAFSA Region X professionals led to life-long friendships for Pat. Following in the footsteps of a founding Chair of NAFSA Region X, Virginia Torelli, she became Director of International Services at Syracuse University. She engaged with the NCIV related International Center of Syracuse, expanding her global engagement. Hosting RIEA and Fulbright scholars from Russia and Ukraine, she was able to build upon my doctoral literary and language studies. "I thank those who nominated me for this honor, and my career long colleagues, especially Mary Idzior, for their support and friendship. Deepest gratitude to NAFSA and to all who share our common mission."
Life Membership Awardee
In recognition of her career achievements in advancing the goals of the Association and of international education and exchange, Pat was the recipient of a 2020 NAFSA Life Membership Award.