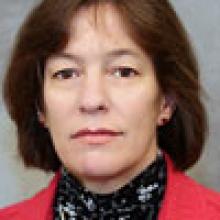 Robin Catmur
Director of International Student, Scholar, and Immigration Services
University of Georgia
Robin Catmur received the 2012 KC ISSS Award of Excellence.
Robin has been an active member of NAFSA both at the regional and national level since 1995. She is a tireless advocate and source of knowledge for her fellow NAFSAns who work in international student and scholar services. She has served as the Regulatory Ombudsperson for Region XI and VII and liaises with USCIS for colleagues who need assistance and troubleshooting with pending scholar and employment-based immigration cases. She also serves as a trainer for NAFSA and routinely presents conference workshops and sessions pertaining to nonimmigrant and immigrant visa sponsorships.
Robin moved from her previous position as Director of Visa Services at Dartmouth College in New Hampshire to the University of Georgia in the summer of 2010. Even with her move, Robin was always willing to assist colleagues across the county. Robin has been a stellar mentor, a strong advocate for international education, and a caring and compassionate colleague and adviser. She had introduced key changes on her campus and supported her staff's professional development within NAFSA.
Currently, Robin is the Director of International Student, Scholar, and Immigration Services, Office of International Education at the University of Georgia. She manages all permanent residency work for UGA and supervises five colleagues who process immigration sponsorships for over 2,200 international students, scholars, faculty and staff at UGA. She is an invited scholar to the University System of Georgia's Executive Leadership Institute (ELI) for 2012. Raised in India, Canada, and several places in between, she holds a Bachelor's degree in International Development from the University of California at Davis, and a Master's degree in Globalization Studies from Dartmouth College.