Image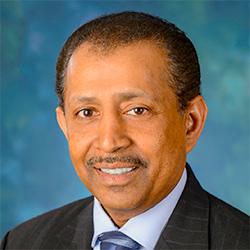 Roger A. Ramsammy, PhD
President
Hudson Valley Community College
Roger A. Ramsammy, president of Hudson Valley Community College, has more than 30 years of higher education experience, including senior positions at three of the largest multicampus colleges in the nation. He is the former president of the West Campus of Miami Dade College and provost and chief academic officer at Northern Virginia Community College. Prior to that, at Palm Beach State College, he was professor of microbiology and anatomy and physiology, chair of biology, associate dean of STEM, and dean of academic affairs.
Ramsammy earned the Virginia Governor's Award for the most innovative STEM program; the Florida Association of Community Colleges and Palm Beach State College Professor of the Year Awards; and the Adjunct Professor of the Year Award at Broward College. He also was the recipient of the Martin Luther King Jr. Cultural Foundation Outstanding Educator Award and served on President Obama's STEM Education College Opportunity Initiative.
Ramsammy currently serves on several regional boards and committees as well as the American Association of Community Colleges's Commission on Structured Pathways, where he was previously a commissioner for Academic, Student, and Community Development as well as Diversity, Inclusion, and Equity.
Prior to a postdoctoral fellowship at Georgetown University's Lombardi Cancer Center, Ramsammy earned a PhD in molecular biology and a master's degree in genetics from Howard University. He holds a bachelor's degree in biology from the University of the District of Columbia.