Image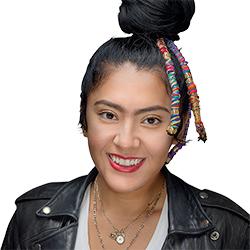 Samantha Ramirez-Herrera
Founder
OffThaRecord.com
Samantha "Sam" Ramirez-Herrera is an entrepreneur, filmmaker, creative director, writer, mother, feminist, and civil rights activist. She is the Founder of OffThaRecord.com (OTR), a creative content agency and digital magazine headquartered in Atlanta, Georgia. At OTR, Sam has built a network of creative multicultural millennials who use their talents and technology to tell raw, uncensored and authentic stories to uplift marginalized communities and promote purpose-driven brands, nonprofits and change-makers. Through her work at OTR, Sam addresses topics she is passionate about, including feminism, economic justice, immigration, reproductive justice, LGBTQ rights, and mental health in communities of color.
Sam's unorthodox path to becoming a digital media maverick is rooted in her own story of drive and determination. She was 7 years old when her parents decided to move the family from Mexico City to the United States, seeking a better life. As an undocumented immigrant, she grew up in the shadows, working hard to get ahead while at the same time fearing the possibility of discovery and deportation. After graduating high school, she waited tables and worked other jobs to make ends meet before becoming a DREAMer, thanks to the Deferred Action for Childhood Arrivals (DACA) program.
Sam has appeared on MSNBC's Hardball with Chris Matthews as well as in Forbes, Mundo Hispanico, AFROPUNK, and The Collegian. She recently was named a 2018 scholar at The Aspen Institute Ideas Festival.