Image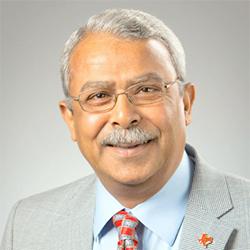 Sukant Misra, PhD
Vice Provost for International Affairs
Texas Tech University
Facilitator, Global Learning Lab
Sukant Misra current serves as vice provost for international affairs at Texas Tech University. His responsibilities encompass all functions of the Office of International Affairs, including the academic center in Seville, Spain. He was also responsible for the establishment of the Texas Tech University-Costa Rica instructional site as the founding dean.
Previously, he served as the associate dean for research for the College of Agricultural Sciences and Natural Resources (CASNR) from 2002 to 2014. He has served Texas Tech University in various faculty and administrative capacities since his initial employment as a faculty member in the Department of Agricultural and Applied Economics in 1993. Prior to joining Texas Tech, he was a researcher at the University of Georgia for three years. Beyond his service to the Office of International Affairs, CASNR, and TTU, he has served on several local, state, regional, and national organizations involved in the advancement of higher education.
He received his bachelor and master's degrees in analytical and applied economics from Utkal University, India, in 1979 and 1981, respectively. He obtained a second master of science degree in 1986 and his doctorate in agricultural economics in 1989, both from Mississippi State University. Misra has published more than 100 peer-reviewed journal articles, technical and invited papers, and book chapters and has received more than $2.2 million in external funding as a PI/Co-PI.
Misra has experience in managing and coordinating many large, faculty-driven, research programs and international initiatives and has many contacts at international institutions, including leading universities in Brazil, China, Costa Rica, Czech Republic, Ethiopia, India, Mexico, Romania, Tajikistan, and Turkey. Misra has visited over 25 countries and has worked closely with faculty and administration of many international institutions.