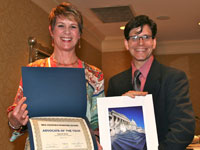 On March 15, 2011, during NAFSA's annual Advocacy Day, Meredith McQuaid, President and Chair of the NAFSA Board of Directors, presented David Wick, Ed.D., of San Francisco State University, with the 2011 Advocate of the Year Award. Each year, the Advocate of the Year Award is presented to the NAFSA member who has gone above and beyond in their efforts to support NAFSA's core mission of promoting international education and exchange.
David has been a stalwart advocate for international education at the state and federal levels of government over the years. He maintains relationships with policymakers year round, which helps to sustain momentum for NAFSA's long-term strategic goals.
Demonstrating that the best advocates are not pigeonholed into one subset of issues, David has been successful at advocating on a wide range of important topics such as the DREAM Act, the Simon Study Abroad Act, and opening academic travel to Cuba. David championed advocacy as a State Whip and has kept NAFSA members in his region informed about international education issues. As an expert in advocacy and training, David also served as an adviser to NAFSA staff in developing the Connecting Our World Grassroots Leadership Program. His vast experience and knowledge of grassroots advocacy has made him an invaluable resource in the development of this new program.