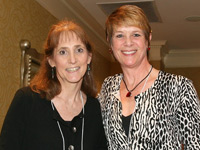 On March 20, 2012, NAFSA President Meredith McQuaid presented DeDe Long with the 2012 Advocate of the Year Award. Each year, the Advocate of the Year is presented during NAFSA's Advocacy Day to a NAFSA member who has excelled in grassroots advocacy and has inspired others to make a difference by engaging their elected officials and promoting policies that support international education.
DeDe, who is director of study abroad and international exchange at the University of Arkansas-Fayetteville, has been an unfailing and compelling voice for international education for many years. From 2008 to 2010, as NAFSA's vice president for public policy and practice, she had a profound impact on NAFSA's public policy agenda. She helped shape NAFSA's advocacy efforts on education abroad and academic travel to Cuba, and has been a leader in the fight for comprehensive immigration reform and against anti-immigrant legislation.
"When you love what you do, believe in what you do, you don't even realize you're advocating – you are advocating everyday!"
- DeDe Long
Throughout her years as an advocate, DeDe has built a strong working relationship with the Arkansas congressional delegation, which has allowed her to serve as a resource to her members of Congress and their staffs. She is always willing to lend advice and share her expertise with NAFSA members and has worked to bring colleagues from her office to Advocacy Day so that they, too, can develop the skills and relationships necessary to be effective advocates.
DeDe has proven that even in difficult political and economic times, it is possible to achieve great results.