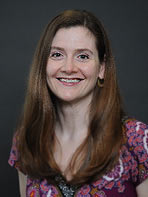 Courtney Greene of Austin, Texas-based Academic Programs International was awarded the 2014 Advocate of the Year by NAFSA President Fanta Aw on March 18, 2014, in Washington, D.C.
The Advocate of the Year is presented to a NAFSA member who has excelled in grassroots advocacy. The Advocate of the Year inspires others to make a difference by engaging their elected officials in discussions and promoting policies that support international education and exchange. The award was presented at NAFSA's 2014 Advocacy Day, held March 18 and 19 in Washington, D.C.
Courtney has demonstrated a resolute commitment to NAFSA's policy agenda and has been an exemplary international education advocate. As a study abroad professional, member of NAFSA's Grassroots Leadership Program and former Deputy State Whip in Texas, Courtney has regularly participated in Advocacy Day, always preparing herself to have frank and productive meetings with her representatives and their staffers. Her commitment doesn't end once Advocacy Day is over. Following the 2013 event, Courtney returned to Washington D.C., to hold another round of meetings with the same staffers to follow up and reiterate the importance of including international education and exchange priorities in the Senate immigration bill.
Courtney also communicates regularly with in-district staff, calling or visiting every 1-2 months to share new data and stories that highlight her views on immigration reform. She has also engaged in a variety of activities in Austin to help advance a friendlier view of immigration locally. As a volunteer with Casa Marianella, a shelter for immigration women and their children, Courtney helped raise awareness of the situations migrants face upon arrival to the U.S., and inspired community members to take action on behalf of aspiring Americans.
She is also involved with local coalitions that host letter-writing campaigns, protests, and site visits to local detention centers. After viewing the dire conditions of one center, she contacted Representative Lamar Smith's district staff to explain its poor conditions. In the fall of 2013, the organization she volunteered with received a letter from one of the gentlemen she'd met with in a detention center, thanking her for raising awareness of the conditions, and citing their improvement since their visit.