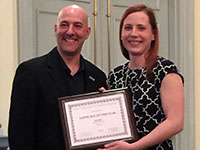 Katie Jabri of the University of Minnesota was presented with the 2015 Advocate of the Year Award by NAFSA Vice President for Public Policy and Practice Stephen Ferst on March 18, in Washington, D.C.
The Advocate of the Year Award is presented to a NAFSA member who has excelled in grassroots advocacy and has inspired others to make a difference by engaging elected officials in discussions and promoting policies that support international education and exchange. The award was presented at NAFSA's 2015 Advocacy Day, held March 18-19.
Katie serves as the advocacy representative for Region IV, where she works to raise awareness of advocacy issues within the region. She has presented on NAFSA's advocacy objectives at NAFSA regional and state conferences, and has organized advocacy trainings and a panel discussion with local congressional staffers and a White House roundtable event on immigration during the Minnesota International Educators meeting.
This award honors Katie's exemplary grassroots advocacy efforts, which include in-district meetings with her congressional representative's staff and her innovative leveraging of social media (follow her on Twitter at @katie_jabri) to connect with other advocates and advance the immigration advocacy agenda by providing useful, relevant information to policymakers on NAFSA's issues.