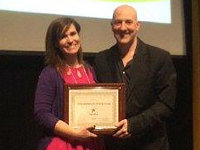 Emlyn Torres of Northwestern University was presented with the 2016 Advocate of the Year Award by NAFSA Vice President for Public Policy and Practice Stephen Ferst on March 14, in Washington, D.C.
The Advocate of the Year award recognizes a NAFSA member who exhibits excellence in international education advocacy, inspiring others to make a difference by engaging with elected officials, and promoting policies that support creating a more welcoming and globally engaged United States.
This award honors Emlyn's exemplary advocacy efforts, which include in-district meetings with her congressional representative's staff and her innovative leveraging of social media (follow her on Twitter at @emlyn_torres) to connect with other advocates, and providing useful, relevant information to policymakers on NAFSA's issues, such as ending the U.S. embargo on Cuba.
"I particularly appreciate validating the advocacy work my colleagues are doing on campuses and in communities to empower them to engage nationally," said Torres. "To that end, I've been encouraging past travel grant recipients to present on advocacy at their state conferences, which is moving forward in Illinois and Michigan, and I intend to travel to Wisconsin to ensure the topic is represented there as well. I'm hoping to carry that momentum into organizing visits to the in-district offices of our members of Congress and to make national advocacy efforts locally accessible."
Emlyn is the advocacy representative for NAFSA's Region V, where she is a constant motivating presence for others to follow her lead and take action. She regularly presents at regional meetings, sends out action alerts, uses social media to continue conversations with NAFSA advocates and coalition partners, and connects NAFSA staff with new advocates.
Emlyn also promotes her region's Advocacy Day travel grants to offset costs and allow more people to get involved in the action in D.C. These actions demonstrate a nuanced talent of motivating her colleagues to see advocacy as their civic duty and realize the importance of their individual involvement. Her "lead by example" philosophy inspires NAFSA members to build relationships with their legislators, campus administration, and other influential leaders.