Registration Details
| Event Date | Event Time | Registration Deadline | Registration |
| --- | --- | --- | --- |
| September 1 - 30, 2021 | 12:00 am - 11:59 pm | | Register Today |
The next session starts on September 1, 2021. Enrollment is open from now through August 26, 2021. For details on applying, review the FAQ section. 
---
Education abroad is an evolving field. The adviser is required to support a wide variety of student needs throughout their education abroad experience. This four-week, self-paced course guides you through the demands often faced throughout the education abroad cycle, providing you with best practices, and tools to use in your own advising practice.
Adapt your advising strategy to meet the changing needs of your education abroad students through six programmatic stages
Address advising situations that advisers commonly encounter in their day-to-day work
Work efficiently, effectively, and collaboratively to support education abroad student needs within your organization and the program destination
Course Format
In each module, you will complete approximately one-two hours of interactive content. This course is divided into 7 modules. Each module will correspond to a section of the workbook and a discussion forum. You will also be asked to complete a final assessment at the end of the course.
Length: 4 Weeks
Effort: 2-4 hours per week, approximately 12 hours to complete.
Level: Introductory
Course Type: 100% Online (Start on the date assigned and work at your own schedule for 4 weeks)
Syllabus
This class requires a small amount of reading, a series of interactive modules, discussion posts, and a final assessment. To complete the course you should:
Go through the interactive module
Take notes and fill out your workbook
Respond to the discussion prompts in the forum 
Explore any of the supplemental readings that interest you
Take the final assessment
Grading Policy
Mini-Quizzes throughout the modules are meant to guide learning and are not counted towards completion of the course.
The workbook is for your own benefit, and will not be counted towards completion of the course. Please take detailed notes to refer back to in the future after you complete this course.
The final assessment is comprised of 14 questions. Submitting the final quiz is a required element of the course in order to receive your Certificate of Participation. 
Course Engagement
Your 2021 Education Abroad Advising e-Learning Dean
Make use of a unique opportunity. Our subject matter expert, Chrissie Faupel, will be monitoring the discussion boards. If you have questions throughout the course or about situations you are currently facing, she will be ready to provide insights along with your peers.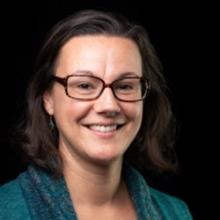 Appalachian State University
eLearning Dean
Chrissie Faupel serves as the director of education abroad at Appalachian State University. She oversees the education abroad unit within the Office of International Education and Development. Chrissie earned her MA in international education from SIT Graduate Institute and her PhD in educational...