Available Registration Dates
Please sign up for the course before registration end date. All end dates are final due to migrations of cohorts into the courses.
In response to numerous inquiries, we are offering early access to the e-Learning Courses. If you have signed up for Cohort E (originally May 1), we will grant access starting April 15. This will provide everyone currently engaged in telework with an opportunity to enroll in e-Learning Courses without having to wait until May.
---
Education abroad is an evolving field. The adviser is required to support a wide variety of student needs throughout their education abroad experience. This four-week, self-paced course guides you through the demands often faced throughout the education abroad cycle, providing you with best practices, and tools to use in your own advising practice.
Who Should Register
Education abroad professionals seeking growth in their advising skills.
Please purchase this course with your credit card through the NAFSA Shop. Please note that we are no longer able to process paper registrations and payments submitted via fax due to strict stay-at-home orders recently issued for Maryland, Virginia, and the District of Columbia.
Course Objectives
Adapt your advising strategy to meet the changing needs of your education abroad students through six programmatic stages
Address advising situations that advisers commonly encounter in their day-to-day work
Work efficiently, effectively, and collaboratively to support education abroad student needs within your organization and the program destination
Modules and Learning Outcomes
Seven self-paced modules guide new education abroad professionals through a learning process of education abroad basics, eliminating the need to learn through trial and error. Glossaries, frequently asked questions, a companion workbook, and self quizzes are also included. In addition, you will learn where to find and access key resources to continue your learning after the conclusion of the course.
Module 1: Influences on EA Advising
Define six stages of the education abroad process
Describe the key elements and responsibilities of the adviser's role
Identify external influences on education abroad advising
Module 2: Outreach
Plan outreach activities to meet institutional expectations and priorities
Assess your program portfolio to ensure programs meet student and institutional priorities
Develop and deliver presentations targeted to prospective study abroad students
Identify technology to inform and converse with prospective students about education abroad opportunities
Module 3: Applicant
Discuss in detail program options and identify the best program fit for each student based on academics, location, and personal interests
Coach students on financial issues, including budgeting for their time abroad and sources of funding for study abroad including financial aid, scholarships, and alternative funding sources
Guide students through the application process
Demonstrate confidentiality on visa, medical, and financial matters
Module 4: Approval
Collect and disseminate student information pertaining to their program
Identify issues that arise from the information collected and communicate with stakeholders to address the issues
Review student applications while complying with institutional policy and review processes
Inform students on visa regulations
Module 5: Pre-Departure
Coordinate with campus partners to inform students of necessary preparation
Communicate applicable program-specific options that impact departure
Develop an orientation that covers: health and safety, cultural awareness, travel logistics, alumni perspectives, identifying resources, etc
Create more engaging preparation for students
Module 6: Abroad
Navigate and respond to student in crises abroad
Engage meaningfully with students, institutions, partners, and personal communities from a distance
Connect students to home institutional processes while abroad
Represent students' interests on campus while they are abroad
Module 7: Re-Entry
Follow up and address needs to ensure successful completion of the program
Support student return to campus via continued engagement with study abroad experience; making connections between EA, campus, and beyond
Course Engagement
Your 2020 Education Abroad Advising e-Learning Dean
Make use of a unique opportunity. Our subject matter expert, Mandy Reinig, will be monitoring the discussion boards. If you have questions throughout the course or about situations you are currently facing, she will be ready to provide insights along with your peers.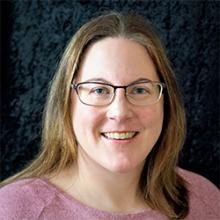 Virginia Wesleyan University
Mandy Reinig is the director of Study Away at Virginia Wesleyan University (VWU). At VWU, she is working to increase study away participation through means of diversity and inclusion, bringing the institution in line with best practices, and developing new partnerships that create a more robust...