Registration Details
| Event Date | Event Time | Registration Deadline | Registration |
| --- | --- | --- | --- |
| January 15 - February 15, 2021 | 12:00 am - 11:59 pm | | Registration Closed |
| February 1 - 28, 2021 | 12:00 am - 11:59 pm | | Register Today |
| March 1 - 31, 2021 | 12:00 am - 11:59 pm | | Register Today |
Please sign up for the course before registration end date. All end dates are final due to migrations of cohorts into the courses.
---
As a new international student adviser, you need to get up to speed quickly to ensure compliance among F-1 students. This 4-week, self-paced course brings you into the office of a typical university to work with and support their international students. Through six online modules, you will address the many challenges you will face in your advising role--from administering the initial I-20, visa and entry procedures, legal employment, and managing transitions.
Special Bonus — Participants will receive access to the NAFSA Adviser's Manual 360 for the duration of the course.
Who Should Register?
No prior experience necessary. This course includes basic information on essential job responsibilities and is designed for both brand new and job-seeking international advisers. More experienced advisers or other interested stakeholders may benefit if they have not had formal DSO or international advising training.
Please purchase this course with your credit card through the NAFSA Shop. Please note that we are no longer able to process paper registrations and payments submitted via fax due to strict stay-at-home orders recently issued for Maryland, Virginia, and the District of Columbia.
Course Objectives
Perform basic compliance, reporting, and procedural tasks to support F-1 students to maintain status and obtain benefits.
Identify the situations impacting the personal and academic adjustment and immigration status of F-1 students.
Identify campus and external partners to provide services and resources for F-1 students.
Modules and Learning Outcomes
Course Engagement
Your 2020 Education Abroad Advising e-Learning Dean
Make use of a unique opportunity. Our subject matter expert, Ingrid Galinat, will be monitoring the discussion boards. If you have questions throughout the course or about situations you are currently facing, she will be ready to provide insights along with your peers.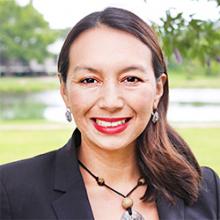 Japan Exchange and Teaching Program Alumni Association of the Southeast
Chair-Elect, Leadership Development Committee
Ingrid Galinat is the president of the Japan Exchange and Teaching Program Alumni Association of the Southeast. Formerly, Galinat was the assistant director of international programs at the University of West Alabama. Galinat is active in NAFSA as an e-Learning course dean, Trainer Corps member...