Available Registration Dates
Please sign up for the course before registration end date. All end dates are final due to migrations of cohorts into the courses.
In response to numerous inquiries, we are offering early access to the e-Learning Courses. If you have signed up for Cohort E (originally May 1), we will grant access starting April 15. This will provide everyone currently engaged in telework with an opportunity to enroll in e-Learning Courses without having to wait until May.
---
As a new international student adviser, you need to get up to speed quickly to ensure compliance among F-1 students. This 4-week, self-paced course brings you into the office of a typical university to work with and support their international students. Through six online modules, you will address the many challenges you will face in your advising role--from administering the initial I-20, visa and entry procedures, legal employment, and managing transitions.
Special Bonus — Participants will receive access to the NAFSA Adviser's Manual 360 for the duration of the course.
Who Should Register?
No prior experience necessary. This course includes basic information on essential job responsibilities and is designed for both brand new and job-seeking international advisers. More experienced advisers or other interested stakeholders may benefit if they have not had formal DSO or international advising training.
Please purchase this course with your credit card through the NAFSA Shop. Please note that we are no longer able to process paper registrations and payments submitted via fax due to strict stay-at-home orders recently issued for Maryland, Virginia, and the District of Columbia.
Course Objectives
Perform basic compliance, reporting, and procedural tasks to support F-1 students to maintain status and obtain benefits.
Identify the situations impacting the personal and academic adjustment and immigration status of F-1 students.
Identify campus and external partners to provide services and resources for F-1 students.
Modules and Learning Outcomes
Module 1: Your Role as Adviser and DSO
Determine the requirements and scope of responsibilities of the DSO role.
Consider how institutional requirements influence institutional practices and policy.
Identify the partnering regulatory agencies that monitor and provide support for F-1 students.
Describe how the adviser facilitates actions between the students, regulatory requirements, and the institution.
Module 2: Initial Procedures for Newly Admitted Students and Dependents
Confirm information in the admissions packet needed for the initial I-20.
Navigate basic functions in SEVIS.
Issue initial I-20.
Describe the process of acquiring status to F-1 students and their F-2 dependents.
Module 3: Enrollment and Reporting Procedures
Verify academic requirements for full course of study.
Register new and continuing students in SEVIS database.
Identify exceptions that may allow for reduced course load.
Consider actions that support international student integration and retention.
Module 4: F-1 Employment Options and Restrictions
Describe the opportunities for and restrictions on F-1 student employment.
Advise students on basic employment requirements (SSN, taxes, etc.) and on employment options.
Identify factors that define CPT (curricular practical training) and OPT (optional practical training).
Module 5: Travel and Re-entry in F-1 Status
Identify documentation necessary for students to reenter the U.S. after temporary absence abroad.
Evaluate general eligibility for I-20 signatures for re-entry after travel abroad.
Provide guidance to students on documentation and re-entry procedures for temporary travel abroad.
Module 6: Managing Transitions
Advise students about grace periods, work and travel options as they complete their course of study.
Determine what actions to take when students withdraw, transfer, or have a terminated record.
Identify how specific actions impact a student's immigration status and future options.
Course Engagement
Your 2020 Education Abroad Advising e-Learning Dean
Make use of a unique opportunity. Our subject matter expert, Ingrid Galinat, will be monitoring the discussion boards. If you have questions throughout the course or about situations you are currently facing, she will be ready to provide insights along with your peers.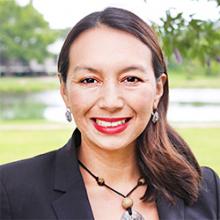 University of West Alabama
Ingrid Garcia-Galinat is a member of the Leadership Development Committee (LDC).