Registration Details
| Event Date | Event Time | Registration Deadline | Registration |
| --- | --- | --- | --- |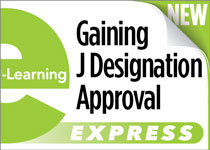 Ready to start learning? When you register, you will have 60 days to experience your content when it's convenient for you! Look for your access link in your registration receipt, on your MyNAFSA page, or by going directly to the learning portal.
For details on registering and accessing, review the FAQ page. 
In this 45-minute short course, learn about the Department of State's J Designation in order to prepare your organization's DS-3036 application package. If you are considering hosting J Exchange Visitors, you will want this overview of the process and expert troubleshooting information.
Examine the process of preparing the DS-3036 including the length of time to complete necessary documents. Find out tips on how to create supplemental information that show your program's planning and readiness for accepting J Exchange Visitors.
Content
Elements addressed within this presentation include:
Institutional motivation for considering applying for sponsorship designation;
Factors to determine if applying for J sponsorship designation is right for your institution;
Other elements to consider: Planning for pre-arrival communications and orientation programs, supervision, evaluation and monitoring of the Exchange Visitors;
Practical advice on completing the application.