Ready to start learning? When you register, you will have 60 days to experience your content when it's convenient for you! Look for your access link in your registration receipt, on your MyNAFSA page, or by going directly to the learning portal.
For details on registering and accessing, review the FAQ page. 
Register Now Access Your Course
---
This self-paced course provides an overview of the international enrollment management cycle and effective recruitment strategies at each phase. Participants are guided through the steps required to build a successful international student recruitment plan and are given the opportunity to develop a customized recruitment plan for their institution. Topics covered include analyzing markets, evaluating recruitment strategies, collaborating with internal and external partners, and developing marketing and communications plans.
This course is for new and experienced international student recruitment and admissions professionals seeking to improve their understanding of international student recruitment plans and the international enrollment cycle.
Identify the foundations of international student recruitment and the components of a recruitment and communications plan.
Select recruitment strategies and methods of evaluation to meet goals.
Identify and utilize internal and external partners to create a unified recruitment effort.
Develop and utilize a strategic international student recruitment plan.
Assess the return on investment (ROI) for recruiting initiatives.
Course Format
In each module, you will complete approximately one-two hours of interactive content. This course is divided into 7 modules. Each module will correspond to a section of the workbook and a discussion forum. You will also be asked to complete a final assessment at the end of the course.
Duration of Access: 60 days from the date of registration. Note that extensions are rarely granted, so please ensure you have access to your content.
Effort: 30-60 minutes per module. It will take longer depending on how much effort you put into the exercises.
Level: Introductory
Course Type: 100% Online (Start on the date you register and work at your own pace for 60 days)
Syllabus
This class requires a small amount of reading, a series of interactive modules, discussion posts, and a final assessment. To complete the course you should:
Go through the interactive module
Take notes and fill out your workbook
Respond to the discussion prompts in the forum 
Explore any of the supplemental readings that interest you
Take the final assessment
Grading Policy
Mini-Quizzes throughout the modules are meant to guide learning and are not counted towards completion of the course.
The workbook is for your own benefit, and will not be counted towards completion of the course. Please take detailed notes to refer back to in the future after you complete this course.
The final assessment is comprised of content-related questions. Submitting the final quiz is a required element of the course in order to receive your Certificate of Participation. 
Course Engagement
Your 2021 International Student Recruitment e-Learning Dean
Make use of a unique opportunity. Our subject matter expert, William Velez, will be monitoring the discussion boards. If you have questions throughout the course or about situations you are currently facing, he will be ready to provide insights along with your peers.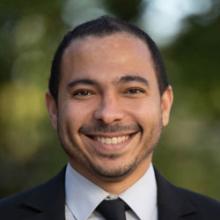 Chemeketa Community College
e-Learning Dean
William oversees international student's admission and recruitment into Chemeketa's Intensive English program and college level programs. He began his career as an international student from Dominican Republic in 2002. He attended Goshen College in Indiana, USA where he earned his bachelor of arts...