Please sign up for the course before registration end date. All end dates are final due to migrations of cohorts into the courses.
---
This four-week, self-paced course provides an overview of the international enrollment management cycle and effective recruitment strategies at each phase. Participants are guided through the steps required to build a successful international student recruitment plan and are given the opportunity to develop a customized recruitment plan for their institution. Topics covered include analyzing markets, evaluating recruitment strategies, collaborating with internal and external partners, and developing marketing and communications plans.
Who Should Register?
New and experienced international student recruitment and admissions professionals seeking to improve their understanding of international student recruitment plans and the international enrollment cycle.
Please purchase this course with your credit card through the NAFSA Shop. Please note that we are no longer able to process paper registrations and payments submitted via fax due to strict stay-at-home orders recently issued for Maryland, Virginia, and the District of Columbia.
Course Objectives
Identify the foundations of international student recruitment and the components of a recruitment and communications plan.
Select recruitment strategies and methods of evaluation to meet goals.
Identify and utilize internal and external partners to create a unified recruitment effort.
Develop and utilize a strategic international student recruitment plan.
Assess the return on investment (ROI) for recruiting initiatives.
Modules and Learning Outcomes
Seven self-paced modules guide international student recruitment and admissions professionals through the basics of recruiting international students, including internal and external analysis, recruitment methods, partnership development, and evaluation of recruitment efforts. Interactive content allows participants to practice selecting recruitment strategies and making decisions. This course also includes a resource guide, a companion workbook, and several self-assessments. In addition, participants will learn where to find and access key resources to continue their learning after the course concludes.
Course Engagement
Your 2020 Education Abroad Advising e-Learning Dean
Make use of a unique opportunity. Our subject matter expert, William Velez, will be monitoring the discussion boards. If you have questions throughout the course or about situations you are currently facing, he will be ready to provide insights along with your peers.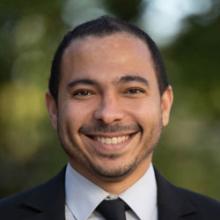 Chemeketa Community College
e-Learning Dean
William oversees international student's admission and recruitment into Chemeketa's Intensive English program and college level programs. He began his career as an international student from Dominican Republic in 2002. He attended Goshen College in Indiana, USA where he earned his bachelor of arts...