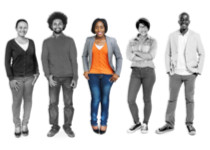 As the field of international education grows more popular, both new and experienced international education professionals need strong and distinctive messaging and identities to distinguish themselves. Building a consistent personal brand allows job seekers and professionals to highlight their experiences, enhance their credibility, and expand their networks.
This NAFSA e-Learning Seminar will explore techniques for building, growing, and maintaining a personal brand. Experts will focus on social media storytelling, networking, résumé enhancement, and interview skills.
By identifying their unique strengths and values, participants will be able to develop a cohesive personal brand that tells a powerful story about themselves as international education professionals. With a focus on low-cost strategies and practical tips, participants will learn how to increase their visibility and communicate with authenticity and originality.
Learning Outcomes
After attending this NAFSA e-Learning Seminar, participants will be able to:
Define their brand and identify the value it adds to the field of international education;
Evaluate whether their professional and personal personas are consistent with their goals as an international educator;
Develop a strategy to leverage and expand their reputation as an international educator;
Determine how to differentiate skill sets and position themselves as an asset to any professional environment; and
Identify skills and attributes that are especially valued in international education.
The content of this NAFSA e-Learning Seminar will appeal to professionals working in international student services; recruitment and admissions; campus education abroad offices; and academic and student affairs.
Presenters

Grace Pfisterer
University of Southern California
Grace Pfisterer is the senior manager in the Office of Graduate Admission at the University of Southern California. She currently focuses on training and supervising a team of 5 credential evaluators. In addition to credential evaluation, Pfisterer has previous experience in undergraduate, graduate, and international recruitment, as well as teaching English abroad in Spain. Her diverse experiences have fostered a global perspective and enthusiastic professional vision. Pfisterer earned a bachelor's of science degree in international studies with concentrations in environmental studies and Latin American studies from the University of Scranton. She is presently pursuing a master's degree in communication management with focuses in marketing and strategic corporate communication at the University of Southern California.

Seth Riker
University of Kentucky
A graduate of the University of Kentucky (UK), Seth began his career as UK's first education abroad promotion and outreach coordinator. In this role, he worked to increase enrollment using strategic marketing, an enhanced ambassador program, innovative video presentations, curriculum integration, and more. In his current role as marketing and communications manager in UK's College of Agriculture, Food, and Environment, he develops and manages communications for college recruitment, advising and retention initiatives, special events, and enrichment programs, including international programs. Riker has presented on such topics as aligning education abroad with campus admission offices; creating education abroad classroom activities; and developing engaging videos for international offices. In 2015, Seth received NAFSA's inaugural Rising Star Young Leader Award for his work in UK Education Abroad and his service to NAFSA as Region VI communications coordinator.

Rachel Webb
Southern Illinois University Edwardsville
Rachel Webb currently serves as lead specialist in the Office of International Affairs at Southern Illinois University-Edwardsville. Her work includes advising students and scholars and serving as the responsible officer (RO) for ISU's J exchange visitor program and as a designated school official (DSO). Webb holds a master of science degree in college student personnel administration and graduated from the NAFSA Academy in 2015. She also serves as the chair-elect for International Educators of Illinois.
Ready to Start Learning?
When you register, you will have 60 days to experience your content when it's convenient for you! Look for your access link in your registration receipt, on your MyNAFSA page, or by going directly to the learning portal.
Build Your Competencies
NAFSA International Education Professional Competencies 2.0 outline the abilities, skills, and foundational knowledge necessary for successful international educators. Learn more about NAFSA Competencies 2.0.
This learning content targets the competency category of People Development.