How are faculty members prepared to handle health and safety issues while abroad with students? As more higher education institutions turn to faculty members to lead programs abroad, those leaders need to be equipped with the necessary tools to address a variety of health and safety issues.
This webinar explores best practices for health and safety in programs led or managed by on-site faculty members and outlines concrete steps for preparing faculty to deal with crises. Presenters Lynn Elliott and Landes Holbrook of Brigham Young University discuss how their campus minimized liability associated with study abroad programs while building a partnership between faculty members and study abroad staff. They also introduce a self-assessment tool for evaluating how well your institution is following model practices for health and safety.
Learning Outcomes
Recognize best practices for health and safety in faculty-led programs
Apply proven strategies for engaging faculty in health and safety-related discussions
Minimize liability and risk associated with study abroad programs by evaluating your current strategy
Presenters

Lynn Elliott
Director, International Study Programs
Brigham Young University
Lynn Elliott's first trip overseas was with the BYU International Folk Dance Ensemble on their tour to Japan, Korea, and the Philippines. By the time Elliott left BYU with his master's degree, he had toured 20 countries and had decided to pursue a career in international education. As a PhD candidate, he specialized in East European politics and served as assistant director for that college's study abroad program in Poland. In 1992, he returned to BYU as a coordinator for performance tours with Performing Arts Management. In this position, he arranged tours for BYU performing groups in more than 40 countries, including groundbreaking tours to Vietnam, Indonesia, Armenia, and West Africa. He left BYU in 2001 for a position at Utah Valley State College as the International Center's associate director and study abroad director. In June 2004, he returned to BYU in his current position as director of international study programs.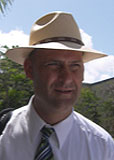 Landes Holbrook
International Security Analyst
Brigham Young University
Landes Holbrook is responsible for international security, safety, and health for Brigham Young University's more than 100 international study and performing arts programs as well as faculty and staff travel. Holbrook assesses security risks, provides analysis for university administration regarding travel policy and procedures, conducts program security advance work, handles crisis management, and creates, plans, and implements training programs for students, faculty, and staff. He serves as the university's key contact for government, non-government, and other professional organizations working with international security, safety, travel, and health issues, and he also serves on BYU's International Committee and NAFSA's Subcommittee for Health and Safety. Holbrook has lived in Paraguay, Mexico, and Spain, and he has directed BYU programs to Puerto Rico, Jamaica, the Dominican Republic, and Spain.
Ready to start learning?
When you register, you will have 60 days to experience your content when it's convenient for you! Look for your access link in your registration receipt, on your MyNAFSA page, or by going directly to the learning portal.
For details on registering and accessing, review the FAQ page. 
Build Your Competencies
NAFSA International Education Professional Competencies 2.0 outline the abilities, skills, and foundational knowledge necessary for successful international educators. Learn more about NAFSA Competencies 2.0.
This learning content targets the competency categories of Risk Assessment and Crisis Management and Relationship Cultivation.