International Educator
(IE) is the flagship bimonthly magazine of NAFSA: Association of International Educators. IE maintains the highest standards of intellectual quality, editorial excellence, and design to service its readers who are working worldwide to advance international education and exchange.

All links are to PDFs.

Cover Story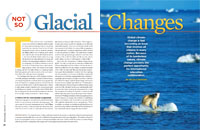 Not So Glacial Changes
Nicole Branan
Global climate change is fast becoming an issue that involves all global citizens in every nation. Because of its borderless nature, climate change presents the perfect opportunity for international education collaboration.



Features
Degrees of Success
David Tobenkin
International joint- and dual-degree programs are rapidly expanding in number, size, and scope and more institutions are launching them at both the graduate and undergraduate levels.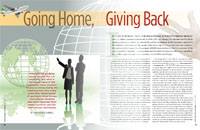 Going Home, Giving Back
Christopher Connell
International students clearly benefit the U.S. economy. But what is the future value of the education these students receive when as measured by the contributions they make when they return home? IE spotlights three former international students who have impacted their home countries and the international community.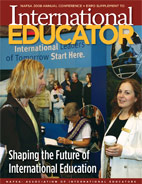 Supplement - First-time Conference Attendees
If you are attending the NAFSA conference for the first time, you are not alone—among the expected 8,000 attendees there will be more than 2,000 newcomers. The opportunities are virtually endless for you to benefit from the conference experience in Washington, D.C., May 25-30, 2008, so don't be shy!
Download the First-timers Brochure (1.6mb

)

Other resources for first-time conference attendees will be collected on the NAFSA Web site. Sign up for the "Navigating NAFSA's 2008 Annual Conference and Expo" webinar or plan ahead to make the most of your conference experience before you arrive in D.C.


Departments
In Focus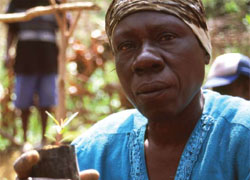 Reforestation
Eric Anderson
In Brief
College-Bound Students Desire Education Abroad, Internships, Fluency
NAFSA Urges Bush to Lift Restrictions on Academic and Family Travel to Cuba
Secure Borders and Open Doors Advisory Committee Releases Final Report
Duke Windfall to Support International Students
Newly Updated Immigration Classifications Poster
Forum on Education Abroad Releases Code of Ethics
In Memoriam: Robert J. Brennan, Advocate for International Exchange
Book Notes: Review of A History of U.S. Study Abroad: Beginnings to 1965 By William W. Hoffa
Opportunities for U.S. Minority Heritage-Seeking Students,
Stress in International Students Featured in Research Journal
New e-Publications on Financing Education Abroad
From the Editors
A Human Face for an Environmental Problem
Christopher Murphy



Front Lines
Ten Years of NAFSA Advocacy: Promoting U.S. Soft Power Through Student and Scholar Exchange
Victor C. Johnson
Across Cultures
Entrepreneurship and Technology in Estonia
Charlotte West
Past as Prologue
From Cambodia to Iran: 1970-1979
Alan Dessoff
Voices
Mexico Rising: Interview with Vicente Fox, Former Mexican President
Elaina Loveland
Education Abroad
Faculty Abroad: What Do These Innocents Need to Know?
Janet Hulstrand
View from Out Here
Short-Term Abroad with Long-Term Benefits
William Lenz and Joseph Wister
Foreign Student Affairs
Counseling: Forging a Cultural Bridge
Reji Mathew
Forum
Staying Competitive with Europe
Susanne Forrest