International Educator (IE) is the flagship bimonthly magazine of NAFSA: Association of International Educators. IE maintains the highest standards of intellectual quality, editorial excellence, and design to service its readers who are working worldwide to advance international education and exchange.

All links are to PDFs.

Cover Story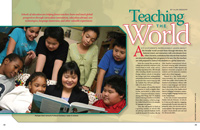 Teaching the World
Alan Dessoff
Schools of education are helping future teachers know and teach global perspectives through curriculum innovations, education abroad, new technologies, language immersion, and other valuable experiences.



Features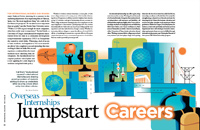 Overseas Internships Jumpstart Careers
Kyna Rubin
International internships are drawing growing numbers of students seeking to shore up credentials while securing a more direct entry into other cultures.



Teaching Medicine Without Borders
Karen Leggett
Medical schools today are incorporating international experiences for future doctors.



Winning Formula in Internationalization Found in a Kansas Corner
Christopher Connell
A regional university in the Midwest strives to reach students from all over the world.
In Focus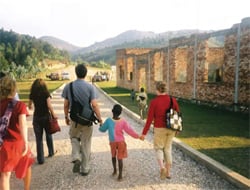 Holding Hands With the Future
Liza Hensleigh
Forum
Building Cosmopolitan Competence
Abraham Lowenthal
In Brief
Transatlantic Degree Programs
U.S. Educators Visit Iraq to Prepare for Student Scholarship Initiative
Boston College Launches Expert Database
Study Abroad Leads to Global Engagement
State Department Connects Through Social Networks
$1 Million Donation to Fund Study Abroad for North Michigan Students
State Department Announces New Student Intern Category
International Experiences Impact "Internationalization" of U.S. Faculty
New and Revised Publications from NAFSA
2009 Campus Internationalization Award Winners
Accessing Best Practices in Internationalization
Scholarships to Help Palestinians Study at U.S., Palestinian Universities
Departments
From the Editors
The Threshold of Our Minds
Christopher Murphy
Voices: Nobel Laureate Muhammad Yunus
Empowering the Poor
Elaina Loveland
Frontlines
Reshaping International Education
John Hudzik
Foreign Student Affairs
Educating International Students About 'Race'
Gary Althen
International Enrollment
International Students at Community Colleges
Janet Hulstrand
Partnering
A Unique Three-Way Partnership
David Moore
View from Out Here
South Africa: Engendering a Powerful Sense of Hope
Allan Winkler
Across Cultures
Higher Education Transformation in Pakistan
Fred Hayward