International Educator (IE) is the flagship bimonthly magazine of NAFSA: Association of International Educators. IE maintains the highest standards of intellectual quality, editorial excellence, and design to service its readers who are working worldwide to advance international education and exchange.
All links are to PDFs.

Cover Story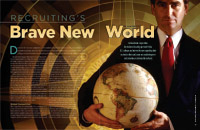 Recruiting's Brave New World
Alan Dessoff
International competition for students is heating up world-wide, U.S. colleges and universities are expanding their outreach efforts and some are considering new and sometimes controversial methods.



Features
Developing K–12 Education
Dana Wilkie
Higher education institutions, professors, and students in the United States are reaching out to developing countries to help improve K–12 education systems and prepare their students for competition in the global workforce.


Boston University—Choosing to be Great Through Internationalization
Christopher Connell
An institution that began as a Methodist seminary has blossomed into the fourth largest U.S. private university, with one of the largest education abroad programs. Now BU has embarked on a 10-year, $1.8 billion strategic plan that embraces even greater internationalization.
Departments
From the Editors
The Promise of Wisdom
Christopher Murphy
In Brief
NAFSA Prepares for Regulatory Changes and SEVIS II
Colleges and Universities Report Cases of H1N1 Flu
In Memoriam: Werner E. Warmbrunn, Former President of NAFSA
Journal Probes Contemporary Issues in International Education
Online Network Connects Chinese Research Community
Pew Study Finds Improvement in U.S. Image Abroad
Report Tracks Growing Number of International Branch Campuses
First Decline in International Graduate Admissions in Five Years
Study Abroad Valued Even in Tough Economic Times
Education Abroad
Instant Connections
Mandy Reinig and Penny Schouten
View From Out Here
Cost of Education: Observations of a Strike
Christopher Kurt Waters
International Enrollment
Got Grads? International Recruiting Heats Up
Charlotte West
Forum
Tangible Global Competency
Peter A. Coclanis
Balancing Subject Mastery and Global Competency
David Moore
In Focus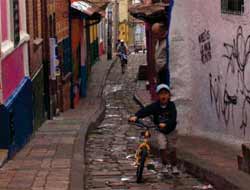 The Uphill Struggle
Sara Ede
Fourth Annual Health and Insurance Supplement
Preparing Students for Good Health Abroad
By Janet Hulstrand
Getting Out
By Julie Friend
Preparing for terrorism, political unrest, government collapse, and armed conflict in education abroad locations.