International Educator (IE) is the flagship bimonthly magazine of NAFSA: Association of International Educators. IE maintains the highest standards of intellectual quality, editorial excellence, and design to service its readers who are working worldwide to advance international education and exchange.
All links are to PDFs.

Cover Story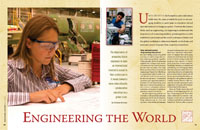 Engineering the World
Darlene Bremer
The importance of preparing future engineers to have an international mindset is crucial to their profession as it moves toward a more intercultural collaboration education on a global scale.



Features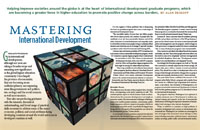 Mastering International Development
Alan Dessoff
Helping improve societies around the globe are at the heart of international development graduate programs, which are becoming a greater force in higher education to promote positive change across borders.



Georgia Tech's Well-Engineered Engagement with the World
Christopher Connell
Georgia Tech was founded in 1885 by Atlantans hoping to push post-bellum Georgia into the industrial age. Today the institution is flourishing with two-thirds of its Ph.D.s in engineering along with 2,500 bachelor's of science and nearly 1,300 master's degrees. And an international focus to teaching engineering has emerged.
Departments
In Focus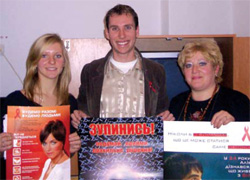 Peer Lessons on HIV/AIDS
Chad Goeden
In Brief
Internationalization of Higher Education in the Coming Decade
TIME Highlights Study Abroad Developments
Podcasts on Bologna Process, International Students, U.S. Study Abroad
Cheney Donates $1.8 Million to Study Abroad
Rise in Foreign Graduate Student Admissions Offers
Iranian-American Scholar Freed from Prison
Save a Stamp - Weigh in Online
NAFSA Establishes Task Force on Study Abroad
Study Abroad Task Force to Issue Guidelines