International Educator (IE) is the flagship bimonthly magazine of NAFSA: Association of International Educators. IE maintains the highest standards of intellectual quality, editorial excellence, and design to service its readers who are working worldwide to advance international education and exchange.

All links are to PDFs.

Cover Story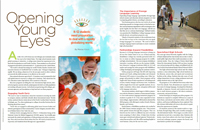 Opening Young Eyes
By Marian Kisch
Opening Young Eyes



Features
Pacific Lutheran University Pursues Its Mission on Seven Continents
By Christopher Connell
Staying true to its global mission, Pacific Lutheran University holds classes on every continent in the world.



The China Craze: What's Motivating Students?
By Kyna Rubin
Students in increasing numbers are headed to China for international study making it a hot
educational destination.



Forum
Why Should We Care About Global Higher Education?
By Ben Wildavsky
In Focus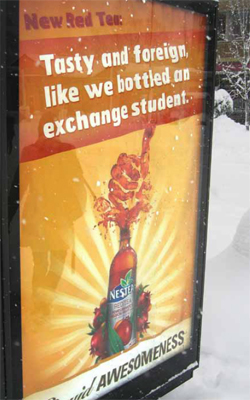 Americans and the Other
Mark A. Ashwill
Departments
From the Editors
No Strangers
By Christopher Murphy



Education Abroad
Campus Conduct Records and Program Eligibility
By Julie Friend



Frontlines
Debunking Myths About International Students and Highly Skilled Immigrants
By Stuart Anderson



Voices
Championing Global Competence: An interview with Asia Society President and CEO Vishakha Des
By Elaina Loveland



In Brief
Positive Effects of Study Abroad Documented in GLOSSARI Project
U.S. and Iraqi Universities Partner Around Exchanges, Online Course Development
New Web Site Connects Advocates on Behalf of International Education
New International Blog
Expanding Study Abroad During Tough Economic Times