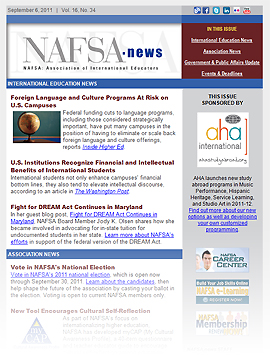 Members automatically receive the latest news and other important information in NAFSA.news, our weekly e-mail newsletter, which includes the latest information on federal policy developments, conferences, resources, and other developments in international education. Members have access to an archive of past issues.
To sponsor NAFSA.news, contact Sue Partyke for details.
NAFSA.news issues are available to NAFSA members only. If you are a member but are not receiving NAFSA.news e-mails, or if you would like to stop receiving NAFSA.news please change your mail preferences.
NAFSA.news Recent Issues
NAFSA.news vol. 24 no.31
August 20, 2019
NAFSA.news vol. 24 no.30
August 13, 2019
NAFSA.news vol. 24 no.29
August 6, 2019
NAFSA.news vol. 24 no.28
July 30, 2019
NAFSA.news vol. 24 no.27
July 23, 2019
NAFSA.news vol. 24 no.26
July 16, 2019
NAFSA.news vol. 24 no.25
July 9, 2019
NAFSA.news vol. 24 no.24
July 2, 2019
NAFSA.news vol. 24 no.23
June 25, 2019
NAFSA.news vol. 24 no.22
June 18, 2019
NAFSA.news vol. 24 no.21
June 11, 2019
NAFSA.news vol. 24 no.20
May 21, 2019
NAFSA.news vol. 24 no.19
May 14, 2019
NAFSA.news vol. 24 no.18
May 7, 2019
NAFSA.news vol. 24 no.17
April 30, 2019
NAFSA.news vol. 24 no.16
April 23, 2019
NAFSA.news vol. 24 no.15
April 16, 2019
NAFSA.news vol. 24 no.14
April 9, 2019
NAFSA.news vol. 24 no.13
April 2, 2019
NAFSA.news vol. 24 no.12
March 26, 2019
NAFSA.news vol. 24 no.11
March 19, 2019
NAFSA.news vol. 24 no.10
March 12, 2019
NAFSA.news vol. 24 no.9
March 5, 2019
NAFSA.news vol. 24 no.8
February 26, 2019
NAFSA.news vol. 24 no.7
February 19, 2019
NAFSA.news vol. 24 no.6
February 12, 2019
NAFSA.news vol. 24 no.5
February 5, 2019
NAFSA.news vol. 24 no.4
January 29, 2019
NAFSA.news vol. 24 no.3
January 22, 2019
NAFSA.news vol. 24 no.2
January 15, 2019
NAFSA.news vol. 24 no.1
January 8, 2019
NAFSA.news vol. 23 no.47
December 18, 2018
NAFSA.news vol. 23 no.46
December 11, 2018
NAFSA.news vol. 23 no.45
December 4, 2018
NAFSA.news vol. 23 no.44
November 20, 2018
NAFSA.news vol. 23 no.43
November 13, 2018
NAFSA.news vol. 23 no.42
November 6, 2018
NAFSA.news vol. 23 no.41
October 30, 2018
NAFSA.news vol. 23 no.40
October 23, 2018
NAFSA.news vol. 23 no.39
October 16, 2018
NAFSA.news vol. 23 no.38
October 9, 2018
NAFSA.news vol. 23 no.37
October 2, 2018
NAFSA.news vol. 23 no.36
September 25, 2018
NAFSA.news vol. 23 no.35
September 18, 2018
NAFSA.news vol. 23 no.34
September 11, 2018
NAFSA.news vol. 23 no.33
September 4, 2018
NAFSA.news vol. 23 no.32
August 28, 2018
NAFSA.news vol. 23 no.31
August 21, 2018
NAFSA.news vol. 23 no.30
August 14, 2018
NAFSA.news vol. 23 no.29
August 7, 2018
NAFSA.news vol. 23 no.28
July 31, 2018
NAFSA.news vol. 23 no.27
July 24, 2018
NAFSA.news vol. 23 no.26
July 17, 2018