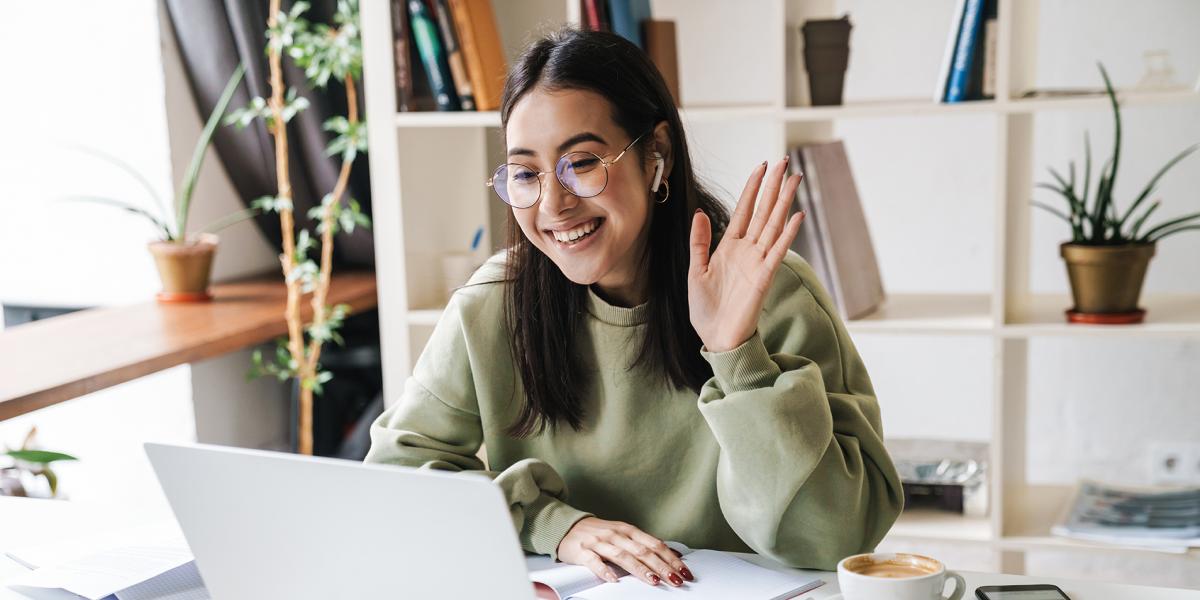 In planning for this year's conference, the Annual Conference Committee (ACC) had fun coming up with creative ways for attendees to connect and learn together—and, importantly, keeping the elements we all know and love about the annual conference. There are many exciting things in store for those who attend, but we wanted to highlight a few specific reasons why you should register.
1. Flexibility of the Virtual Format
Though we'll miss meeting in person, this year's all-virtual format comes with its perks! There's no rush to book hotels or flights, and you can join us from wherever you are, whether it's your home office or a coffee shop patio. Colleagues outside the United States can easily participate, as can those of us who typically wouldn't be able to take a week to attend the conference. Another upside: You can dip in and out of programming as your schedule allows. Finally, if you miss a session you wanted to attend or didn't catch a plenary speaker, all of the live programs will be available on-demand for a month after the conference concludes. There will also be an entire library of sessions that are only on-demand!
2. Sessions
We're excited for all conference attendees to enjoy the collection of sessions we have planned. As is the case every year, the ACC received so many amazing session proposals that it was hard to choose the final lineup! But we're so pleased with the program, and we think you will be, too. NAFSA 2021 includes almost 100 sessions that speak to this year's conference theme of "designing our shared future." Sessions cover all of NAFSA's five knowledge communities—there's definitely something for everyone. And the virtual format makes it easy to attend sessions in the same time slots!
3. Workshops
Sometimes 45 minutes or an hour just isn't enough—you want to take a deeper dive into a topic. Peruse the 16 workshops available at this year's annual conference and find one that resonates with you. The options range from building sponsored recruitment plans and racial justice in our work, to advice for those beginning their career in the field, budgeting, and data strategies.
4. Career Center
The NAFSA Career Center is always a popular spot at annual conferences, and we expect that this year will be no different. Visit the NAFSA Career Center to attend workshops and sessions on fine-tuning your résumé, protecting your mental health, restarting or re-energizing your career, and more.
5. Networking and Socializing
As we all know, the NAFSA 2021 Annual Conference & Expo is the best place to connect with new or current professional friends, contacts, peers—anyone involved in international education!—from all over the world. Take advantage of extracurricular events, session chats, and one-on-one meetups to catch up, get inspiration and ideas, and do business. If you attended last year's eConnection, you know how much energy and participation there was in the chats, and we look forward to more of that this year!
6. Partnerships
Connecting with new or existing partners is always a high point of the NAFSA conference. In the Expo, find new potential partners or connect with those you already work with. See how they've adapted to help you meet current challenges, and learn about the newest cutting-edge products, programs, and services.
7. Signature Programs
Join one or both of NAFSA's Signature Programs to hear from leaders in the field from all over the world and discuss best practices, emerging themes, and thought leadership. The Symposium on Leadership provides current and aspiring internationalization leaders with a toolkit for the next decade, focusing on thought leadership, resilience, and nimbleness to enhance their individual effectiveness as senior international officers (SIOs) and success in institutional outcomes. The Latin America and Caribbean Forum features insights from higher education leaders in this region, strategies for effectively engaging in recruitment there, and region-specific networking opportunities.
8. Inspiration
The NAFSA annual conference isn't just about learning and networking, though both are important. The conference is also about being energized and inspired! We on the ACC want every attendee to walk away feeling invigorated and encouraged. Of course, we think every element of conference is inspirational, but our plenary speakers bring a special energy to this category. Jackie Joyner-Kersee and Nicholas Kristof are committed advocates and voices in international diplomacy—I look forward to what are sure to be thought-provoking and engaging addresses that will inspire us long beyond the end of conference.
These are just eight of the reasons we're excited about the annual conference, but there are many more. Register today to join us in June—we look forward to seeing you there!
---
Sherif Barsoum, MA, is associate vice president for global services at New York University. He is chair of the NAFSA 2021 Annual Conference Committee.