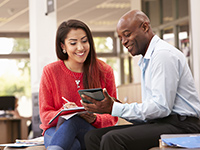 As manager of NAFSA's Career Center and @NAFSAJobs, November is about much more than pumpkin spice lattes (PSLs), fall foliage, and Black Friday deals. November is National Career Development Month, an opportunity for career development organizations to highlight all of the great career-focused resources they provide. To celebrate National Career Development Month, NAFSA will be publishing a series of career-oriented blog posts focused on the many career development offerings the association provides to international education professionals across the field.
To kick things off, I want to highlight one of our newest career development opportunities. For the first time ever, NAFSA has released a call for proposals (CFP) for Career Center sessions at the 2019 NAFSA Annual Conference & Expo in Washington, D.C. The Career Center is one of the most popular parts of the NAFSA Annual Conference and provides education and engagement to international educators during all phases of their careers.
This new CFP grows out of our belief that career development is a constant process that helps us grow as professionals and hone our skills to be the best we can within our profession. For those working in and around the international education field, career development is always top of mind as our industry adapts to changes that impact our work. Career development does not begin and end at any specific stage. Often, we learn best from experience, or from those who want to share want they have experienced. It is precisely because we share that international education has grown exponentially, and the NAFSA Career Center wants to be part of this growth process.
Do you have experience and answers to questions about how to successfully transition into a leadership role? Or perhaps you are confident in communicating effectively, orally and in writing, with upper-level administration? Maybe you know how to present data to advocate for additional office or staff resources? Or you have stellar people skills and have created a positive workplace environment that engages and retain diverse talent?
These questions provide a few examples of the type and depth of topics the Career Center would like to offer at NAFSA 2019. The CFP features 18 different topics within seven pan-NAFSA focus areas that target the cross-cutting International Education Professional Competencies.
The seven pan-NAFSA focus areas are:
Communication with stakeholders
Financial stewardship
Leadership development
Human resources and management
Workplace diversity and inclusion
Career transitions
Preparing for a career in international education
Presenting at a NAFSA 2019 Career Center session has the double benefit of helping to boost your career and profile in the field while offering invaluable insight and advice to peers and colleagues seeking to take advantage of all the career development opportunities that NAFSA 2019 has to offer. Remember! NAFSA membership is not required to submit a proposal, and Career Center Session proposals are due December 15, 2018.
Please e-mail me if you have questions, need help locating a co-presenter, or want feedback on a topic or idea.
I look forward to seeing you in Washington, D.C.! And happy National Career Development Month!