2006 Conference Keynote Speaker
If you are not familiar with Salman and his work, his bio appears below. The short version is Salman in known as the "South Asian Bono". His unique message presented by music, film and spoken word earned him an invitation to the recently convened Clinton Global Initiative -- hosted by President Clinton.
Salman Ahmad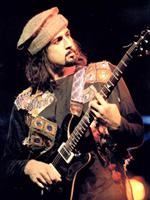 This is truly a unique opportuntiy to hear the international message of peace and good will. Salman will speak at the Luncheon to introduce his work to us. We will then have an evening program that night (after the Drink and Dine on 39 Restaurant Hops) for Salman to give us a short acoustical concert, a viewing of one of his films, and a Q&A time.
Salman Ahmad is a doctor by training and a rock musician by profession. Salman went to school in his birth place of Lahore, Pakistan and then moved with his family to New York where he went to Tappan Zee high school in Tappan, NY.
After graduating from high school in the U.S. he got his medical degree from Pakistan's King Edward Medical College in Lahore. While in med school he was also a member of Pakistan's first pop band, Vital Signs, whose debut album sold a million copies. The album included the mega-hit anthem "Dil, Dil Pakistan".The success of Dil Dil Pakistan made Vital Signs into overnight Pop Stars. This is when Salman decided that he was going to give up his stethoscope and pick up his guitar. He left the Vital Signs in 1990 and founded South Asia's biggest rock band, Junoon.
Junoon has sold over 25 million albums world wide and has the distinction of being the first ever rock band to be invited to perform at the U.N. general assembly by U.N. Secretary-General Kofi Annan back In 2001.
Salman has also been appointed as U.N. goodwill ambassador for HIV/AIDS. He has personalized the "I care, do you" U.N. poster campaign in Pakistan by paraphrasing a popular Quranic verse "Saving one life (from aids) is like saving the whole of humanity". He's been interviewed or quoted in major newspaper and magazine publications like the NewYork Times ,Boston Globe, LA Times, Chicago Tribune, Newsweek and Time; and has also appeared as a commentator on major television networks like CNN, BBC, NBC, ABC, CBS, FOX, MTV, VH-1 and other global media networks. Recently he has appeared in two documentary films: It's My Country Too on Muslim-Americans and Rockstar and the Mullahs which has won a SAJA award. Both films have been broadcast worldwide on PBS and the BBC.
Junoon has won channel V's "Best International Group Award" in India and has also been the subject of a VH-1 documentary, ISLAMABAD: ROCK CITY, presented by Hollywood movie star Susan Sarandon.
Salman has been a passionate activist in promoting peace in the subcontinent. His efforts in bridge building between India and Pakistan has resulted in a song/video he produced called Ghoom Tana. Ghoom tana appears on his latest solo album, INFINITI and is currently being broadcast on MTV Desi in the United States.
You may hear and read more about Salman and Joonoon at www.junoon.com and www.isufirock.com