New Mexico
The following organization, which is independent of NAFSA: Association of International Educators, provides additional opportunities to network and access resources within your state as well as local communities.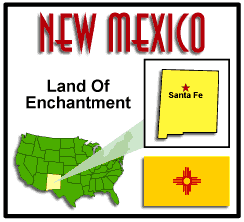 Welcome to the New Mexico page of the Region II website!
International educators in the Land of Enchantment meet each year in the summer after the NAFSA national conference to share what we have learned and find new ways to strengthen and support international education in our state.
2018 Annual New Mexico NAFSA Meeting
July 31, 2018
Corbett Center
New Mexico State University
Las Cruces, NM
Many thanks to NMSU and their Office of International & Border Programs for agreeing to host this year's meeting!
We don't have the technology for anyone to register online, but I WOULD like to know if you're coming so that we can plan for lunch. If you plan to join us, please email me ([email protected]) with your name, title, and the name of your institution.
Hotel
Brenda in the Office of International & Border Programs reserved a block of 20 rooms at Sleep Inn University for the night of July 30. The deadline to reserve a room is July 16. The reservation is under NAFSA and the rate is $74 per night with a continental breakfast. The hotel said it is preferred to call them directly at (575) 522-1700. The address is 2121 S Triviz Dr, Las Cruces, NM 88001. Thanks, Brenda!
There are no fees associated with attending this meeting.

Amy Weber
International Student and Scholar Officer
Study Abroad Advisor
NAFSA State Representative
Central New Mexico Community College
[email protected]
505.224.4000 x 53455