Wyoming
The following organization, which are independent of NAFSA: Association of International Educators, provides additional opportunities to network and access resources within your state as well as local communities.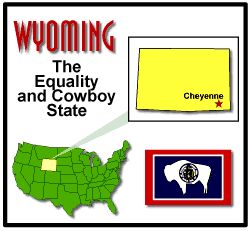 Roughly half the size of France, Wyoming is the 9th largest state in America. With just over 525,000 residents, it has the fewest people of any state. Residents live primarily in smaller communities and generally enjoy a little slower, simpler pace, taking more time to appreciate the world around them. Natural wonders abound in this land of gentle prairies, majestic mountains and abundant wildlife. Recreational opportunities are varied and extensive. However, residents keep pace with the modern world, using all the same technology available in more populated areas.
The University of Wyoming is the state's only provider of baccalaureate and graduate education, research, and outreach services.
UW combines major-university benefits and small-school advantages, with more than 180 programs of study, an outstanding faculty, and world-class research facilities all set against the idyllic backdrop of southeastern Wyoming's rugged mountains and high plains.
The main campus is located in Laramie, approximately two hours north of Denver. Laramie is a picturesque and friendly town offering a reasonable cost of living and easy access to outdoor activities in the Rocky Mountain region.
The state's community colleges are among Wyoming's most prized resources. Dedicated to students, they feature small class sizes with professors whose primary interest is teaching. This means students benefit from more individualized instruction, tutoring, and advising. Most of their programs are designed with transferability in mind to give their students many options for their future.
Best regards,
Amanda Enriquez
Intercultural Program Coordinator
Northwest College
231 W. 6th Street, ORB 127
Powell, WY 82435
307.754.6424
[email protected]
2016 Colorado/Wyoming International Educators Meeting
The 2016 Colorado/Wyoming International Educators Meeting will be held on Friday April 29, 2016 at the University of Colorado Anschutz Medical Campus in Aurora, CO.
Registration Info will be released soon.  Subscribe to the CO/WY Listserv for more updates. 
Subscribe to Colorado/Wyoming International Educators Listserv