Image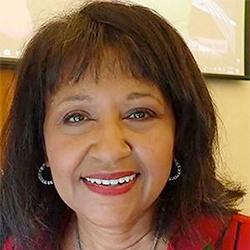 Anita V. Gaines
University of Houston
Anita Gaines retired from the University of Houston in July 2019, accomplishing more than 40 years of service with International Student and Scholar Services.
She served as Director there from 1994 until her retirement. Anita was inspired to a career in international education thanks to her predecessor and mentor Dr. Jack Burke. Anita has been actively involved in NAFSA throughout her career that included service as South Texas Representative, and Chair of Region III. On the national level she was Chair of the Council of Advisors to Foreign Students and Scholars (CAFSS), Annual Conference Committee Member, Workshop Chair and Faculty of Foundations of International Education: Foreign Student Advising, Trainer Corps, Professional Development Program, Rules and Resolutions Committee, Chair of the Subcommittee on Ethical Practice, Ethics Coordinator, and Chair of the Membership Engagement Committee. Anita has been a session presenter at numerous NAFSA Conferences. She is a member of NAFSA's New Century Circle. Anita received the Citation for Extraordinary Service in International Education from NAFSA Region III, and she was the 2011 recipient of NAFSA's Homer Higbee Award for Distinguished Service.
Anita is currently Coordinator of the NAFSA Christian Member Interest Group. She looks forward to continued service in NAFSA.
Life Membership Awardee
In recognition of her career achievements in advancing the goals of the Association and of international education and exchange, Anita was the recipient of a 2020 NAFSA Life Membership Award.