Image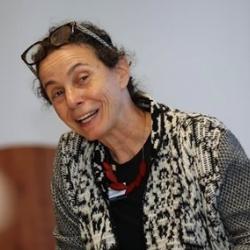 Julie Leitman
Associate Vice President of Institutional Relations and Outreach
Academic Programs International (API Abroad)
Julie Leitman, currently serving as the Vice President of Strategic Initiatives, is one of the four "founding mamas" who started Academic Programs International (API) in 1997.  Julie began her career in international education in 1982 teaching in Sevilla, Spain. This experience was followed by 8 years in various advising and management roles at LASPAU: LASPAU, Academic and Professional Programs for the Americas, Harvard University. Both as a founder of an international education organization and in light of her daily engagement with the field at large, Julie has played a fundamental role in the development of API, its mission, growth, and partnerships. Over the years, Julie has also been instrumental in fostering the meaningful international experiences of thousands of API students, and has mentored a multitude of API alumni as they explore their post-program academic and career trajectories.
Beyond the scope of API, Julie has devoted time in the field to volunteering, particularly in its nascency, to the Boston Area Study Abroad Association (BASAA) and in NAFSA, first as a Coordinator for Exhibits in Region XI, and then frequently as a mentor to first-time NAFSA attendees, regionally and nationally.
Julie has presented at NAFSA and Forum conferences on a variety of topics, from Parents as Partners to Language Study Decline in Education Abroad. Julie also served on the working group rewriting the Forum's Code of Ethics. Julie was also awarded the Education Abroad Leadership Award in 2022.