Image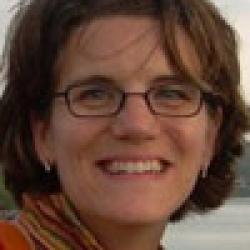 Julie Strecker
Mercer University
Julie Strecker is coordinator of international student and scholar services at Mercer University in Macon, Georgia. She has been a leader in creating international communities at her university and in the surrounding local community. She led the creation of Mercer's International House, the university's first living and learning community, where both domestic and international students reside. She implemented regular co-curricular international seminars, led by faculty, staff and members of the Macon community with notable international experience, for students at the International House. Leaders in the Macon community are also invited to participate in international student orientation activities.
To foster relationships between domestic and international students, Julie created a weekly Café Connections program which grew in popularity and assumed student leadership. At a local level, Julie approached an elementary school to propose the implementation of the school's first International Week celebration. She worked with teachers and parents to plan the week's activities, and she supported Mercer international students to prepare class presentations about their home countries. In addition to having elementary school students learn about the languages, food, dress, currency and life in other countries, children who speak English as a second language have felt a renewed sense of community during their school's International Week celebration.
Julie has been an active leader in the Georgia International Educators Association; she has taken domestic and international students to participate at the Georgia International Leadership Conference. Julie has also served as chair of Study Georgia, a state-wide, public-private consortium to promote international recruitment.
Julie was awarded the 2012 Hugh M. Jenkins Award for Excellence in Community Programming.