Image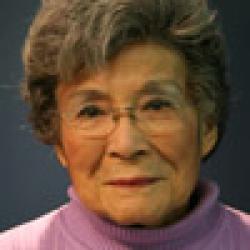 Lillian Kumata
Lillian Kumata was a founding member of the Community Volunteers for International Programs at Michigan State in 1964, a group that started giving warm coats to African students and now covers a wide array of activities, including the annual Global Festival that brings in 5,000 members of the community to interact for a day with MSU internationals. CVIP also provides home hospitality, household goods, activities for family members, and outreach to local K-12 Schools.
Lillian also created in 1973 a scholarship for spouses of MSU international students and she still raises money for it today. She has been a volunteer recruiter and leader in numerous other organizations ranging from the Red Cross to Sister Cities. She was the COMSEC representative for Region V in the 1980s, and has presented numerous times at national and regional conferences.
Lillian is a human "Ever-ready Bunny" with an unlimited supply of energy and a positive "can-do" attitude. Her life-long dedication to volunteerism in the international arena has inspired countless others to follow her lead. One of Lillian's current projects is a proposal to change the restriction on F-2s enrolling as part-time students.
Lillian has been honored in many ways and at many levels for her sustained global outreach. In 1999 the emperor of Japan presented her the Order of the Sacred Treasure, Gold and Silver Rays. The U.S. State Department and USA Today gave her the Millennium International Volunteer Award in 2000.
Lillian was awarded NAFSA's 2009 Hugh M. Jenkins Award for Excellence in Community Programming.