Image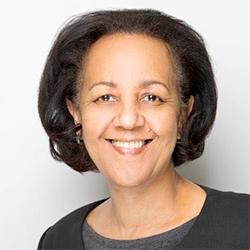 Mariam Assefa
World Education Services
Mariam Assefa retired as the Executive Director and CEO of World Education Services (WES) in 2019 after 38 years with the organization.
Mariam spent her career in international credential evaluation and recognition. She is the author of a 1988 book on the system of education of France and has made frequent presentations on foreign educational systems and the recognition of international educational credentials in the United States and abroad. As a consultant for the US government, she was involved in discussions regarding the recognition of academic credentials in Africa, Asia and Europe. Mariam has held different NAFSA regional and national offices and served as President in 2006. She was awarded One-to-World's Fulbright Award for Contribution to International Educational Exchange in 2005.
On her retirement, the WES Board of Trustees established the $30 million WES Mariam Assefa Fund to support catalytic efforts that ensure the economic integration and advancement of immigrants and refugee workers in the US and Canada. A native of Ethiopia, Mariam is a graduate of the University of Montpellier (France) and the State University of New York at Buffalo.
Life Membership Awardee
As a past president of the association, Mariam was granted Life Membership in 2020, in accordance with NAFSA Standing Rules.