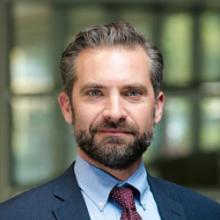 Zachary Frieders
Executive Director, Study Abroad
University of California, Davis
TLS Representative, Region XII
Among his more notable achievements, Zachary implemented more affordable programs during uncertain economic times and achieved success by increasing enrollments on abroad programs.  He has fostered productive and amicable relationships during a time of great organizational change while at UC Davis and demonstrated leadership in the areas of building successful financial models and crisis and risk management.  Zachary also created an Internships Program Coordinator position to address growing student needs in internship opportunities abroad, which ultimately led to a Florence, Italy-based internship program to receive a National Association of Student Personnel Administration (NAPSA) award for Best Practice in International Education: Student Philanthropy.  Zachary serves on the UC Davis Campus Steering Committee for Global Education for All and is currently conducting research on student cognitive development and study abroad.  Many of Zachary's colleagues have benefited from his ability to lead through collaboration, respect and a desire to enhance the field of education abroad.
Lily von Klemperer Awardee
Zachary Frieders received the 2018 Lily von Klemperer Award.