Authors are encouraged to submit manuscripts, related to international education, that present research, thinking, and/or experiences furthering the discussion of the topic. Thank you for your interest in publishing with NAFSA.
Guidelines on How to Publish
Please follow the procedures below when submitting a book proposal or manuscript.
Specific NAFSA Project Guidelines
International Educator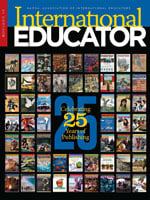 International Educator (IE) is the flagship bimonthly magazine of NAFSA: Association of International Educators, the leading association in the field of international education and exchange. IE maintains the highest standards of intellectual quality, editorial excellence, and design to service its readers who are working worldwide to advance international education and exchange. In tandem with NAFSA's values, IE publishes articles with the belief that international education advances learning and scholarship, builds understanding and respect among different peoples, and enhances constructive leadership in the global community.
IE is guided by an Editorial Advisory Board comprised of leaders in the field of international education.
The magazine publishes articles as well as provocative essays on new and major issues and trends in the field of international education. IE welcomes ideas for potential articles as well as opinion and personal essay submissions from international educators. It is suggested that potential authors contact the editorial staff of IE prior to submission to discuss the proposed topic, length, and other parameters. Please read the writer's guidelines to learn more about what IE publishes. To suggest a potential article for the magazine, please e-mail [email protected].