International Educator (IE) is the flagship bimonthly magazine of NAFSA: Association of International Educators. IE maintains the highest standards of intellectual quality, editorial excellence, and design to service its readers who are working worldwide to advance international education and exchange.
All links are to PDFs.

Cover Story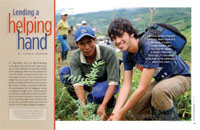 Lending a Helping Hand
Nicole Branan
Education abroad programs aren't just about expanding the minds of today's college students and teaching the values of global citizenship. These days, it's also about giving back to the communities where they study.



Features
Bridging the Divide
Dana Wilkie
In South Africa, much has changed in terms of equal access to higher education for all students regardless of race since apartheid ended in 1994. Despite the past conflict over race relations, progress has been made and a brighter future is on the horizon.



Elon University Charts a New Course
Christopher Connell
In the past 15 years, Elon University has transformed itself from regional college into a comprehensive university and has garnerd a reputation as an institution where students become deeply engaged in community service.
Departments
In Focus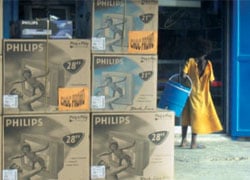 Consumption
Stephanie Robins
In Brief
New Data Show Gains in International Students Coming to United States, U.S. Students Heading Overseas to Study
Report Highlights Innovators in Campus Internationalization
Canadian Schools Ramp Up Internationalization
NAFSA President: It's Time to Open the Door More Widely
State Department's Hughes Bids Washington, DC, Farewell
NAFSA Member Leaders Take Office
Book Review of What's Up America? By Diane Astimbay