International Educator (IE) is the flagship bimonthly magazine of NAFSA: Association of International Educators. IE maintains the highest standards of intellectual quality, editorial excellence, and design to service its readers who are working worldwide to advance international education and exchange.
All links are to PDFs.

Cover Story
Ripple Effects—The Bologna Process, Ten Years On
By Charlotte West
After a decade of change in Europe, the Bologna Process is influencing how nations outside the European Higher Education Area look at their own higher education systems and their interrelations.
Features
Learning from the Past—Abroad
By Janet Hulstrand
Learning about historical events firsthand in locations where they took place doesn't just teach about the past, it helps students make connections to events that have shaped today's societies and developed today's cultures.

From the Steel City to Qatar, Carnegie Mellon University Pursues a Global Course
By Christopher Connell
Carnegie Mellon University has gone global with its Global Awareness Across the Curriculum initiative that has launched new courses exploring international topics and themes.
Departments and Columns
From the Editors
From Bobbio to Bologna
By Christopher Murphy
Education Abroad
Education Abroad for Freshman
By Inge Steglitz
View from Out Here
Experiencing International Education from the Other Side
By John Battenburg
Voices
Global Education for All: An interview with Carol Geary Schneider
By Elaina Loveland
Forum
The Global "Imagined Community" - International Education and Global Civil Society
By James Skelly
Partnering
Higher Education Partners With the United Nations
By Alan Dessoff
In Brief
Admission Offers to Prospective International Students from U.S. Grad Schools Up in 2010
Asian Business Schools Form Recruitment
Alliance
Canada Launches International Education
Marketing Group
Mexico Expands Online University
Court Upholds Florida Ban on Publicly Funded
Travel to Certain Countries
Putting Israel on the Map for Study Abroad
Universities Unite to Focus on Development in
Africa
USAID is working. Developed in partnership
with African higher education and government
leaders
Journal Explores Experiences of International
Students
In Focus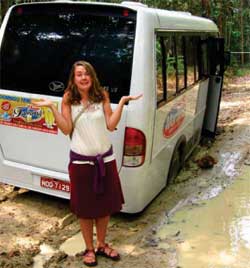 Faz Parte
Kelly Brannan Trail
Fifth Annual Health and Insurance Supplement
Travel Warnings: Developing Effective Response
Procedures
By Julie Friend
Learning the System
By Kim Fernandez

Ensuring that international students carry adequate health insuranceis no small task, say university administrators. And they're not sure things aren't about to go from bad to worse.