International Educator (IE) is the flagship bimonthly magazine of NAFSA: Association of International Educators. IE maintains the highest standards of intellectual quality, editorial excellence, and design to service its readers who are working worldwide to advance international education and exchange.

All links are to PDFs.

Cover Story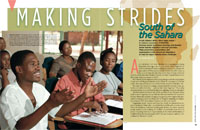 Making Strides South of the Sahara
Dana Wilkie
In sub-Saharan Africa, three major needs—to improve awareness of HIV/AIDS, increase access to distance learning, and develop better teacher education—are high priorities. Many universities, corporations, and organizations from abroad are stepping in to help the region address these challenges.



Features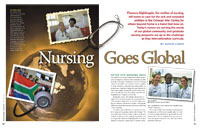 Nursing Goes Global
Susan Ladika
Florence Nightingale, the mother of nursing, left home to care for the sick and wounded soldiers in the Crimean War. Today's nurses are serving the needs of our global community and graduate nursing programs are up to the challenge as they internationalize curricula.



Study Abroad Mandate Brings Students and Challenges to Goucher College
Christopher Connell
What began as a small woman's college in 1885, Goucher College has now become the first traditional liberal arts college in the nation (now co-educational) to require everyone to have an education abroad experience.
Departments
Across Cultures
Shifting Demographics in Sub-Saharan Africa
By Juba Shabani
Frontlines
Creating Staying Power for U.S.-Based Internationals
By Stuart Anderson
Forum
Becoming North American
By Robert Pastor
In Focus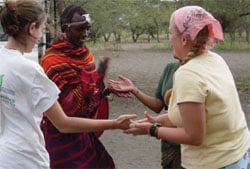 Body Language
Charlotte Blessing
Third Annual Health and Insurance Supplement
Why Insurance?
By Joanna Holvey Bowles
What's in YOUR policy?
By Julie Friend
From the Editors
When the United States Catches a Cold...
Christopher Murphy
In Brief
NAFSA and NASULGC Launch Center for Study Abroad
NAFSA Outlines Policy Proposals for Incoming Administration
Celebrate International Education Week 2008
Expanding Opportunities in China
Lieutenant Governors Call For U.S. International Education Policy
Lofty Goals in Asia
Movement to End Free Tuition for Foreign Students in Sweden, Finland
NAFSA Web Site Wins Gold Circle Award
$17 Million Windfall for International Initiatives at Spelman
Tighter Rules in UK for Foreign Students
Past as Prologue
2000–2008: A Roller Coaster Ride
Alan Desoff
Voices
Jan Figel of the European Commission Student Mobility in the European Union
Elaina Loveland
Education Abroad
Abroad After Graduation
By Charlotte West
Foreign Student Affairs
Working with LGBT International Students
By Eve Katz