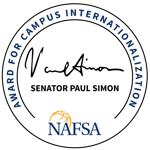 The Senator Paul Simon Award for Campus Internationalization recognizes U.S. colleges and universities that are making significant, well-planned, well-executed, and well-documented progress toward comprehensive internationalization—especially those using innovative and creative approaches. There are two categories in which an institution can receive a Simon award, Comprehensive and Spotlight.
2019 Winning Institutions
Comprehensive Award
The Simon Award for Comprehensive Internationalization is granted to a limited number of institutions each year - usually no more than five. The award recognizes overall excellence in internationalization efforts as evidenced in mission, strategies, programs, and results.
Spotlight Award
The NAFSA Senator Paul Simon Spotlight Award is presented to no more than three institutions that highlight innovative internationalization programs and initiatives.
Past Award Winners
Discover the institutions with innovative international programs.
Profiles of Success
Explore others' accomplishments in areas of internationalization.
Presidents and Provosts Summit
Designed for campus leaders and chief academic officers who wish to cultivate partnerships with each other and engage on issues of global learning and campus internationalization.