The NAFSA 2021 Senator Paul Simon Award for Campus Internationalization nomination process is now open!
The Senator Paul Simon Award for Campus Internationalization recognizes U.S. colleges and universities that are making significant, well-planned, well-executed, and well-documented progress toward comprehensive internationalization—especially those using innovative and creative approaches. There are two categories in which an institution can receive a Simon award, Comprehensive and Spotlight.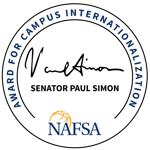 2020 Winning Institutions
Comprehensive Award
The Simon Award for Comprehensive Internationalization is granted to a limited number of institutions each year - usually no more than five. The award recognizes overall excellence in internationalization efforts as evidenced in mission, strategies, programs, and results.
Embry-Riddle Aeronautical University, Daytona Beach Campus
Emerson College
United States Naval Academy
University of California-Davis
Spotlight Award
The NAFSA Senator Paul Simon Spotlight Award is presented to no more than three institutions that highlight innovative internationalization programs and initiatives.
Agnes Scott College for its SUMMIT Global Journeys program
DePaul University for its Global Learning Experience program
University of Maryland-College Park for its Year of Immigration initiative
NAFSA IEW Campus Connection
NAFSA's new International Education Week (IEW) Campus Connection will present a full week of virtual programming in recognition of International Education Week, November 16 – 20, 2020. IEW Campus Connection will feature keynote speakers on topics such as social justice, internationalization, and cutting-edge research on trends in international education, as well as NAFSA's annual Simon Award presentations and higher education internationalization presidential panel. 
NAFSA thanks Sodexo for their generous support of the Senator Paul Simon Award for Campus Internationalization Recognition Ceremony and Presidential Panel.